Uncategorized
Q&A – Elisabeth Moss (Peggy Olson)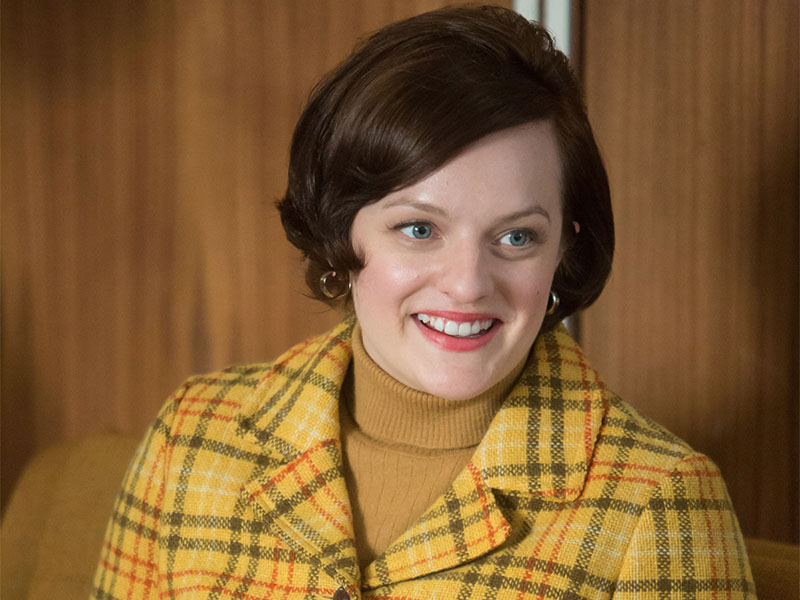 In this interview, Elisabeth Moss, who plays Peggy Olson on AMC's Mad Men, talks about her pride in Peggy's accomplishments and why she believes Peggy is a better boss than Don.
Q: Thinking back to Season 1, did you ever dream Peggy would be in the position she is now?
A: Definitely not. I thought maybe she would be a copywriter, which technically she still is. Only she's the copy chief. I never really thought that the show would go for seven seasons. None of us were thinking that long-term.
Q: Do you ever feel a personal sense of pride for what Peggy has accomplished?
A: I'm extremely proud of her. I think she's gotten super cool and a little bit badass, and I think she's really strong and smart. And I think I've always been protective of her.
Q: What was it like filming the scene in the Season 6 Finale where Peggy sits at Don's desk?
A: It was nerve-wracking because it was the last shot of the season… and everyone usually comes for the last shot of the season. A lot of the cast, and the whole crew is there, and the producers, and a lot of the writers. And you kind of wish everybody would maybe not do that so that you can make sure you're doing a good job… [Laughs] I thought it was a very cool scene. And I thought it was a very cheeky move on Matthew Weiner's part, and I don't think that's the end of the story. That's not the end of her journey — Peggy hasn't, like, "made it." But it definitely is a little wink at her ambition and her place in that office now.
Q: Was Jon Hamm there? Did he give you any pointers on how to commandeer that office chair?
A: [Laughs] He was there. And no, I've been watching him do that s–t for years. I've been staring at him doing that for a long time.
Q: What was your reaction to the red plaid pantsuit you wore in that scene?
A: I thought it was really cool, and I love the long vest and the pattern… After working on the show for so long, I remember having fittings with Janie [Bryant] in Seasons 1 and 2 and 3 and we used to be like, "God, what if there's a day when we're in pants and bellbottoms." And we would laugh about it and say, "That would be so crazy." Now we're in that time and that's starting to happen.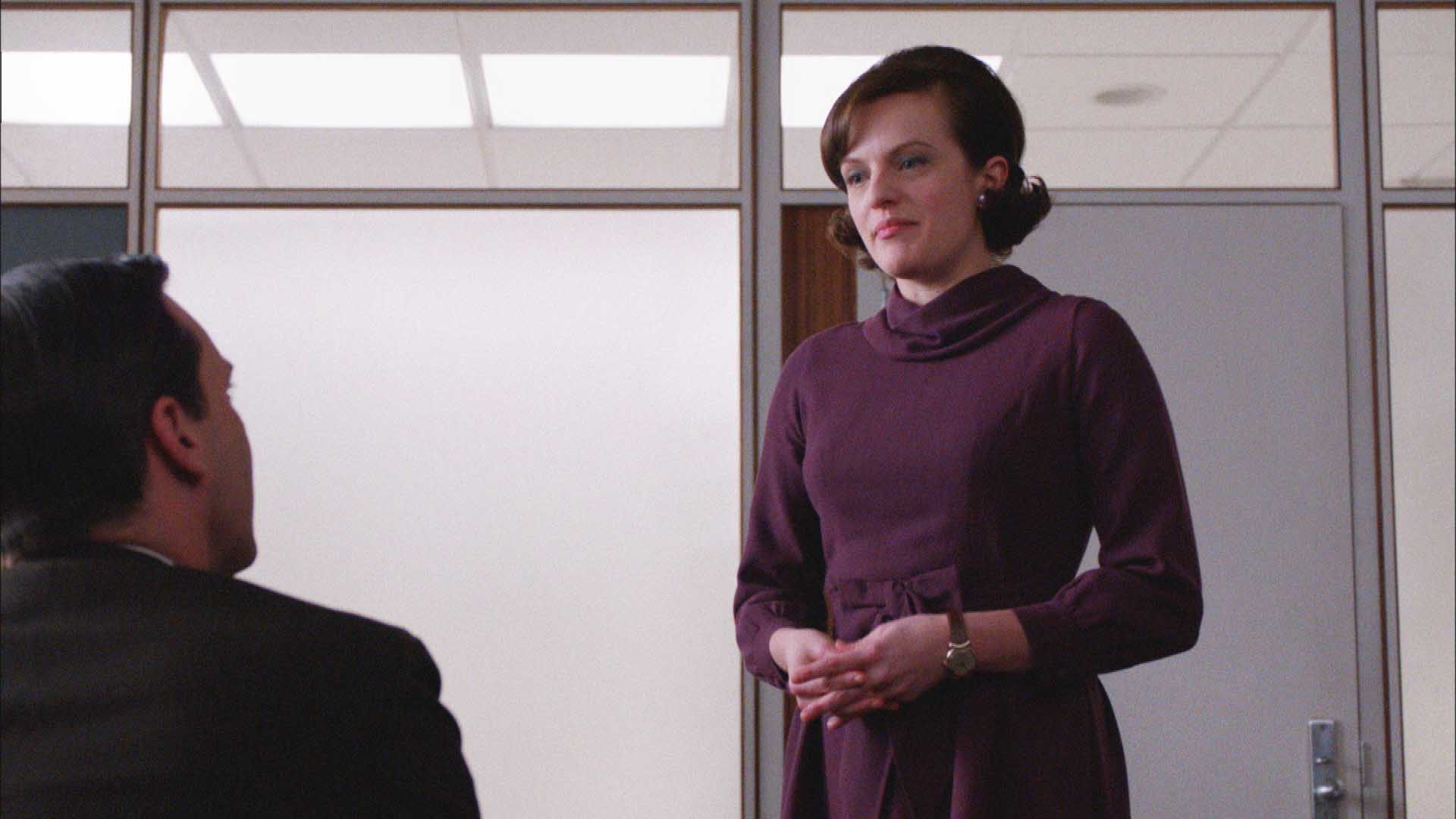 Q: What do you think of comparisons of Peggy to Don? Has that changed from season to season?
A: For many years, that was kind of the way it was going. They were always so different, but so driven and extremely linked by their secrets and by their friendship. And I think over Season 6 and as we're shooting Season 7, and I kind of prefer this. Peggy is not the new Don. She is the new generation of advertising. And I think what she's finally figuring out is that her strength as a woman is something that she shouldn't run away from. That it doesn't actually work to be Don. She actually has a better way of being a boss.
Q: Peggy had an affair with Ted Chaough, a married man, last season. Do you like playing Peggy's "bad" side?
A: That's the fun stuff. It's not as fun to play a character that is just perfect. It's also completely unrealistic. I think one my favorite things about Season 7 is that I don't feel like we're shying away from Peggy's imperfections… She's still really vulnerable. She still can be naïve. She still has insecurities.
Q: When Peggy wears that revealing dress to make Ted jealous, were you excited to wear something so different from Peggy's norm?
A: I loved it! I wear stuff that's not like Peggy in my everyday life, obviously. So it's not like I'm completely unused to wearing a revealing dress… I love the idea that she's doing it for Chaough; she's not doing it for her date. She's trying to make Chaough jealous… And that dress was so perfect. And when we put it on, it was so Peggy, because with the big pink bow, it wasn't quite fashionable. She probably got it for 30% off or something. [Laughs]
Q: Peggy's apartment situation is pretty bad — rats, crime. What's been the worst apartment you've ever lived in?
A: Oh my God, Peggy's apartment is massive… One of the first places I lived in New York was a friend of my mom's apartment, so I lived in a room in that apartment. And then I had a roommate that was a 50-something-year-old substitute teacher, and she lived in the living room and I lived in the bedroom and we shared a bathroom. And then I had what they call a "two-room studio," which is basically a studio with a big closet. So, [compared to that,] the apartment Peggy has is really nice and she owns the whole freaking building on the Upper West Side.
Q: So you think Peggy has it pretty good in other words?
A: Yes! She had it way better than I had it growing up in New York.
Click here to read an interview with Jon Hamm, who plays Don Draper on AMC's Mad Men.
Read More