Uncategorized
Mad Men's 1960s Handbook – The American Way of Death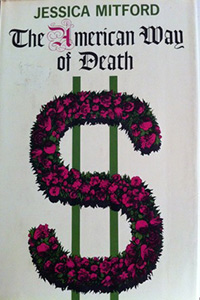 This week's 1960s Handbook takes a closer look at The American Way of Death, the book which Jim tells Harry "we can all learn something from" in Season 7, Episode 3, "Field Trip."
One of the most influential books of the 1960s, Jessica Mitford's The American Way of Death satirically exposed the predatory practices of the U.S. funeral industry. Mitford investigated the subject at the urging of her husband, a labor lawyer who had observed that there seemed to be a correlation between burial costs for deceased union workers and their widows' death benefits. Mitford discovered that such pricing strategies did indeed exist, and concluded from further research that the industry employed "Madison Avenue language" and fake mythology to play a "huge, macabre, and expensive practical joke on the American public."
Mitford's tart humor and deft incorporation of material from industry publications enabled her to turn a dry, taboo subject into a captivating read. A memorable excerpt from a Mortuary Management magazine article described a divide-and-conquer solution for funeral directors to the "problem" of a clergy member steering a bereaved family toward a no-frills casket and service. In another chapter of The American Way of Death, Mitford quoted from an industry tome criticizing morticians who displayed caskets in price order instead of subtly arranging them to influence grieving customers to select expensive ones as a way of expressing their love for the deceased.
The chapter on the embalming room, rejected by Mitford's original U.S. publisher as too ghoulish, often appears in college textbooks. Among the chapter's conclusions is that the main purpose of embalming is to sell caskets. In the early 1960s only 3.5% of Americans were cremated upon death, usually in simpler caskets (or none at all), but even then the industry feared the loss of revenue from cremation and propagandized against it.
The American Way of Death became an instant best seller and earned Mitford the title of "Queen of the Muckrakers." Even before publication, the funeral industry and its supporters denounced Mitford as a subversive, the anti-Christ, and a threat to the American way of life — the phrase upon which her book's title played. Despite the attempts to smear her, and in part because of them, the book sold more than a million copies, inspired numerous television shows and newspaper articles, and led to meaningful industry reforms. By the 1990s, Mitford felt that backsliding had occurred and revised The American Way of Death to address contemporary practices she found disturbing. She died before the update was published.
Read More