Press
People Asks Christina Hendricks About Mad Men Ending; Elisabeth Moss Talks Fashion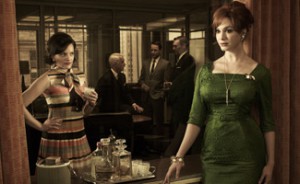 This week, Christina Hendricks talks to People about the prospect of Mad Men ending, while Elisabeth Moss discusses fashion with The Hollywood Reporter. Plus, the new Season 7 photos generate lots of buzz. Read on for more:
• Christina Hendricks tells People that Mad Men's upcoming end is "scary. But we had a really good run."
• Elisabeth Moss talks to The Hollywood Reporter about her red carpet looks, including her "defining style moment."
• TVLine checks out the Season 7 cast portraits, saying, "What you've got here are some hip cats and groovy foxes."
• Entertainment Weekly showcases a new Season 7 photo, featuring Peggy, Stan, Michael, Harry and Ken on an airplane.
• A.V. Club's continuing reviews of Mad Men's Season 1 episodes gives the season finale, "The Wheel," an "A."
• Co.Create compiles Don's creative advice into an infographic.
• Screen Daily reports that Jon Hamm will receive the CinemaCon Award of Excellence in Acting at next week's CinemaCon.
• PolicyMic spotlights the eight actors who have appeared on both Mad Men and ABC's Scandal.
• Broadway World reports that Robert Morse will receive a Lifetime Achievement Award at next month's Palm Beach International Film Festival.
To stay up-to-date with all the latest Mad Men news, sign up for the Mad Men Social Club.
Read More