Press
Jon Hamm Photobombs Tourists on Tonight Show; Matthew Weiner Previews Season 7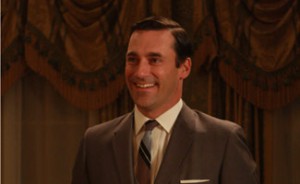 This week, Jon Hamm photobombs tourists on The Tonight Show With Jimmy Fallon, while Matthew Weiner talks Season 7 with HitFix and Vulture. Plus, Elisabeth Moss is interviewed by Vulture.com. Read on for more:
• Jon Hamm and Jimmy Fallon photobomb tourists in New York City, and E! Online has the video.
• Matthew Weiner talks to HitFix at length about his Season 7 vision, commenting, "It's the ending of the show, so the idea is to think about where you're going to leave everybody forever."
• Matthew Weiner also tells Vulture about the final season's structure: "Much of what is set up in much of the first seven episodes is paid off in the last seven as we do traditionally, but the stories are denser and the first seven episodes are their own arc."
• Matthew Weiner also discusses Season 7 and the promo photos with The Hollywood Reporter, TheWrap, the Los Angeles Times, The Wall Street Journal, The Huffington Post, TV Guide, USA Today and BuzzFeed.
• Vulture interviews Elisabeth Moss, observing, "As we, the audience, are preparing for a post–Mad Men age, so is Moss, and she's much further along than we are, having already embarked on a series of Peggy-less ­projects."
• Matthew Weiner and famed graphic designer, Milton Glaser, chat with The New York Times about the genesis of the new Season 7 poster, which embodies the "sophisticated, exuberant advertising look of the late 1960s."
• E! Online calls the Season 7 poster "totally groovy."
• Jon Hamm made a "pretty hilarious" cameo on Saturday Night Live, according to Gothamist.
• Vulture.com checks out a Mad Men Season 7 teaser that shows Don disembarking from a plane and asks, "What does it all mean?" People deconstructs the teaser for clues, while The Huffington Post calls it "15 seconds of awesome."
• Need to catch up on Mad Men before the Apr. 13 Season 7 premiere? Then watch AMC's "Mad Men in Two Minutes" video at Gold Derby.
• God's Pocket, directed by John Slattery and starring Philip Seymour Hoffman and Christina Hendricks, will be released in select theaters on May 9, according to The Hollywood Reporter. Deadline reports that the U.K. rights to the film have been acquired by Arrow Films.
• TheWrap reports that Vincent Kartheiser has been cast in a short film, Winter Light, that will be produced by Abigail Spencer (Suzanne) and others.
• Preservation, a movie featuring Aaron Staton, will have its world premiere at next month's Tribeca Film Festival, according to The Hollywood Reporter.
• A.V. Club, reviewing Season 1's classic episodes, gives "Nixon Vs. Kennedy" an "A" and calls it "one of the first season's finest hours."
• Redbook learns Christina Hendricks' beauty tips, including a date night look that's "pretty similar" to Joan's.
• Fashionista talks to Janie Bryant about her upcoming post-Mad Men projects — which include many things but costume design is not one of them.
To stay up-to-date with all the latest Mad Men news, sign up for the Mad Men Social Club.
Read More