Press
Jon Hamm, Mad Men Visit PaleyFest; Matthew Weiner Talks Season 7 for Don, Peggy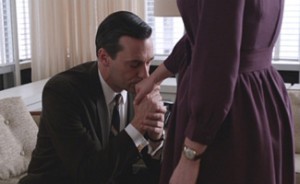 This week, PaleyFest hosts a panel of Mad Men's actors, while Matthew Weiner discusses the upcoming season for Don and Peggy. Plus, January Jones, posing in Violet Grey, has high praise for Jon Hamm. Read on for more:
• During Mad Men's PaleyFest panel, Jon Hamm shares that, despite all that happened in Season 6, "Don is a survivor. He rises to the challenge," according to The Hollywood Reporter. BuzzSugar, Entertainment Weekly, HitFix, Los Angeles Magazine, TODAY.com and Zap2it also have details from the panel.
• In a lengthy interview, Matthew Weiner tells The Atlantic that Don is "a representation, to me, of American society. He is steeped in sin, haunted by his past, raised by animals, and there is a chance to revolt. And he cannot stop himself."
• The Daily Beast learns from Matthew Weiner that "Peggy's story is a constant mix between what is good for Peggy as a person and what is good for Peggy's career, and they have not gone together at all."
• January Jones poses for a Violet Grey photo shoot and shares her opinion of Jon Hamm: "I think he's amazing. Very kind and generous, well read, very strong but easily vulnerable, very funny but also dark. My friend."
• Jessica Paré talks to Esquire about how she "really struggled" before landing the role of Megan.
• Men's Journal interviews John Slattery, who has this to say about Mad Men's end: "I just don't know how much there is left to say. I'm not saying it's running out of gas — but we told the story. It's time to go."
• Regarding Mad Men's finale, Jessica Paré tells Elle, "I really feel like this season is hit after hit. The punches keep on coming. It's what I would want from the final season."
• Check out a cast photo at The Huffington Post, which comments, "Peggy's story will get even bigger this season, and based on her damn good outfit and arm-crossing, it's going to be a lot more fun."
• E! Online showcases a Season 7 trailer that's "packed with groovy fashions and sets the scene for an unforgettable season."
To stay up-to-date with all the latest Mad Men news, sign up for the Mad Men Social Club.
Read More