Press
Jon Hamm Reads Mean Tweet on Jimmy Kimmel; Jessica Paré Appears on Fashion Cover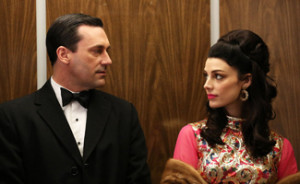 This week, Jon Hamm is on Jimmy Kimmel Live! reading a mean tweet about himself, while Fashion puts Jessica Paré on the cover. Plus, January Jones books a new movie role. Read on for more:
• E! Online has Jon Hamm reading a mean tweet about himself ("i hate Jon Hamm. i hate his face. i hate his pig name. i hate how smug he always looks") in Jimmy Kimmel's latest edition of the segment where celebrities read an insult aloud about themselves from Twitter.
• Jessica Paré graces the cover of Fashion and says her most challenging episode was the Season 6 finale, when Don told Megan they weren't moving to Los Angeles, because "I didn't want Megan to cry… I wanted her to be strong and stand up to Don."

• According to The Hollywood Reporter, January Jones will star in The Shuddering, a supernatural thriller to be directed by George Ratliff.
• Talking to Ireland's RTÉ.ie about voicing a character in Disney's The Pirate Fairy, Christina Hendricks discusses learning "what a strong and dramatic tool your voice can be." Babble has a look at Hendricks' pirate fairy, Zarina, in action.
• A.V. Club, reviewing Mad Men's Season 1 episodes, gives "The Hobo Code" an "A-" and calls it "perhaps the most important episode in the whole series to understanding what makes Don Draper tick."
• Zosia Mamet (Joyce) tells Elle.com that "there were several pieces on Mad Men that I really wanted to steal," including a pair of slacks that were "so well-tailored and looked so good."
• Monsters and Critics reports that Lifetime's Flowers in the Attic, starring Kiernan Shipka, will be available on DVD on Apr. 15.
• Dread Central reports that one pilot from Amazon — which continues its foray into the original series business — is Bosch featuring Eric Ladin.
To stay up-to-date with all the latest Mad Men news, sign up for the Mad Men Memo.
Read More