Press
Jessica Paré, James Wolk Grace GQ; January Jones to Star Opposite Ethan Hawke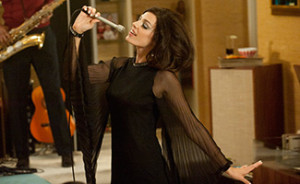 This week, GQ features Jessica Paré and James Wolk in its pages, while January Jones is cast in a movie opposite Ethan Hawke. Plus, Variety reports on a new horror/thriller featuring Aaron Staton. Read on for more:
• British GQ features Jessica Paré — "yes, she of 'Zou Bisou Bisou'" — in a photo shoot in its March issue.
• James Wolk models some new spring office suits for GQ, which describes Bob Benson as "slippery and disorienting: pleasingly bland with the suggestion of danger."
• Deadline reports that January Jones has been cast in Good Kill, a movie to be directed by Andrew Niccols that also stars Ethan Hawke.
• According to worldwide rights to Preservation, a horror/thriller featuring Aaron Staton, have been acquired by XYZ Films.

• A.V. Club, reviewing Mad Men's Season 1 episodes, awards an "A" to "Red in the Face," an episode that showcases how "Matt Weiner and his team know so much about these people that we will never be able to plumb all of their depths…"
• Den of Geek reports that Season 7 will premiere in the U.K. on Sky Atlantic on April 16.
To stay up-to-date with all the latest Mad Men news, sign up for the Mad Men Memo.
Read More