Uncategorized
Q&A – Charlie Hofheimer (Abe Drexler)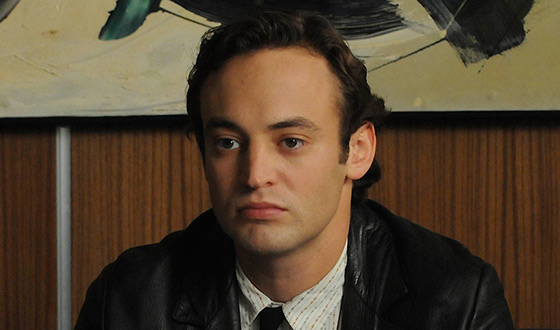 Charlie Hofheimer, who plays Abe Drexler on AMC's Mad Men, discusses the technical difficulties of shooting the scene where Peggy stabs Abe.

Q: Talk about shooting the scene where Peggy stabs Abe…
A: It was a very technical process. They had a dummy torso to test and it involved a harness strapped around my waist. There were plastic tubes running from the blade to create the blood. Because of how technical it was, we had to do it a lot of times. It was quite a moment and very crazy to do! By the end of it, it was really a sight that no one should see out of context.
Q: Did you have any idea that was coming before you read the script?
A: Before I read the script, Matthew Weiner came to me and said, "Charlie, there's a scene that you are going to like and not like." So, I had an inkling that something was coming, but I would have never guessed.
Q: Abe's breakup speech was pretty brutal. Have you ever been in a situation like that?
A: I've certainly never been stabbed by a significant other! With breakups, I'm always the wimp. I just can't pull the trigger, let alone say it like it is. I think part of what was so cool about the writing in that scene is that the severity of the incident provided clarity. It's the first and probably the last time that I will break up with someone in an ambulance… I hope! [laughs]
Q: How do you feel about Abe and Peggy's relationship ending? A: I hope they cross paths again. There's a way in which they're really good for each other. I don't see it as him falling out of love with her; I think he is very much in love with her when that breakup happens.

VIDEO: Inside Episode 609 Mad Men: The Better Half
Q: Do you identify more with Abe or Peggy?
A: I myself am a pretty liberal and empathetic person who did in fact grow up in Brooklyn. I definitely identify with where Abe is coming from in terms of politics and the realities of the late '60s. I do sometimes feel like I am from an earlier era. I don't think Peggy is opposed to these elements; I think she's far less political.
Q: Have you called on that part of your own history at all for your character?
A: My best friend in the world from preschool – Wayne Barret is his father and was the head political writer for The Village Voice. He was writing during this time in Brooklyn. I certainly have thought about him over and over again. I went to a typical public school filled with lower-income families, so I relate a lot to some of the circumstances they put Abe in. I grew up with a strong degree of empathy for the difference between kids who wake up and think about how they're going to eat, and kids who wake up with the basics taken care of. That's what Abe is about.
Q: What was the most interesting factoid you learned about the '60s from your research for Abe?
A: It's so hard to say because I've learned so much. One of the great things about this job was the opportunity to learn so much about the Civil Rights Movement and about world politics of the time. It's interesting to understand how many of the divides that we're witnessing today in politics, you can trace back to 1968.
Q: Peggy and Abe butt heads over where to settle down. If you could live anywhere in NY, where would it be?
A: I love Brooklyn. In fact, I live in sort of the "Brooklyn" of L.A. There's community in these small neighborhoods out here, which is the thing I'd be looking for in Brooklyn.
Q: You've talked about gag reels from the series. What funny moments did the audience never see?
A: My infamous gag moment was my twist and shout, which was improvised and I thought was happening between takes – it not only made it onto the gag reel, but into the show. It was in the "Zou Bisou Bisou" episode at Don's surprise party. (Season 5 Premiere, "A Little Kiss")
Click here to read an interview with Elisabeth Moss, who plays Peggy Olson on AMC's Mad Men.
Read More