Press
President Obama Compares Peggy, His Grandmother; TV Guide Hails Season 6 Finale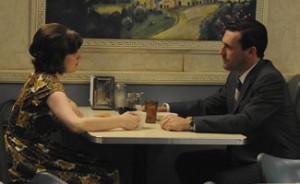 This week, The New York Times notes that President Obama has gleaned insights on his grandmother's life from the portrayal of Peggy, while TV Guide thinks the Season 6 finale was one of 2013's most outstanding episodes. Plus, the Los Angeles Times is a fan of one of Pete's most famous lines, "Not great, Bob!" Read on for more:
• President Obama tells friends that watching Peggy in Mad Men has "given him insight into what it must have been like for his strong-willed grandmother in a world dominated by men," The New York Times reports in an article about the president's favorite TV shows.
• "In Care Of" — the Season 6 finale that "raises the idea that a broken Don Draper has finally learned his lesson" — is one of TV Guide's top episodes of the year.
• According to the Los Angeles Times, one of the best lines on TV in 2013 was Pete's "Not great, Bob!"
• Vanity Fair trumpets the fact that Christina Hendricks has six movies coming out this year, noting that, "even though Mad Men is winding down, Christina Hendricks is just getting started."
• Check out Jon Hamm — who's been "criminally absent from the big screen since Jennifer Westfeldt's 2011 comedy-drama, Friends With Kids" — in the poster for Million Dollar Arm, courtesy of HeyUGuys.
• The Vancouver Sun recommends binge-watching Mad Men, a "future classic you won't be able to watch one episode at a time."
• Cinema Blend ranks Mad Men as one of 2013's top shows: "Mood, imagery, and music joined forces to cause a sharp, ambitious, effective season of deeply moving television."
• Hollywood.com features the Season 6 premiere, "The Doorway," on its list of the best TV and movie New Year's Eve scenes.
• SportsGrid does a podcast about its favorite TV episode of the year, "The Crash."
• The Huffington Post rates Pete falling down the stairs and Ken tap dancing as two of TV's best 2013 moments, in GIF form.
• The Wire makes a New Year's resolution for Peggy: "I will find someone who appreciates me and my work, but isn't completely inappropriate for me."
• Shockya reports that Sweetwater, a film starring January Jones, is now available on Blu-ray and DVD. Examiner.com calls the movie an "awesome little western."
• According to Racked, Janie Bryant is partnering with Mack Weldon on a men's sock line.
• To stay up-to-date with all the latest Mad Men news, sign up for the Mad Men Memo.
Read More