Press
Mad Men Returns April 13; Christina Hendricks Talks Joan's Power With Express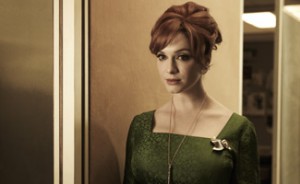 This week, it's announced that Season 7 will debut on April 13, while Christina Hendricks discusses with Express how much she'll miss playing Joan. Plus, Elisabeth Moss is awarded a Golden Globe for her performance in Top of the Lake. Read on for more:
• Mad Men's Season 7 will premiere on April 13, according to The Hollywood Reporter.
• Christina Hendricks shares with Express that Joan is "an incredibly powerful character. I've loved playing her and I know how very rare it is that you see a woman like that on TV or even in film."
• After winning a Golden Globe for best actress in a miniseries or television movie for Top of the Lake, Elisabeth Moss speaks backstage about her mother's influence, according to Parade. The Huffington Post points out that Moss was one of this year's many first-time Golden Globe winners.
• One of TV's most memorable sex scenes, according to HitFix, occurs in Season 2's "Maidenform" where, during a tryst with Don, Bobbie Barrett reveals she wants the Don Draper treatment.
• Dan Bishop is nominated for an Art Directors Guild award for Season 6's "The Better Half," according to The Hollywood Reporter.
• Broadway World reports that Mad Men's Don Devine is nominated for a Camera Operator of the Year award in the television category by the Society of Camera Operators.
• The Hollywood Reporter says the Gay and Lesbian Entertainment Critics Association has nominated Mad Men as the TV drama of the year and Jon Hamm as the male TV performance of the year.
• According to Indiewire, Kiernan Shipka says she likes acting in dramas because "playing more complicated is much more fun."
• The Huffington Post showcases Lifetime's "all kinds of crazy good" trailer for Flowers in the Attic, featuring Kiernan Shipka.
• To stay up-to-date with all the latest Mad Men news, sign up for the Mad Men Memo.
Read More