Press
Jon Hamm in New Funny or Die Video; NY Daily News Awaiting Mad Men's Return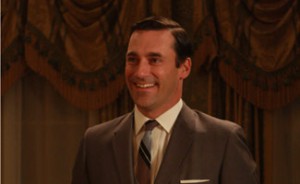 This week, Jon Hamm lends his voice to the latest Downton Abbey-themed Funny or Die video, while the New York Daily News is eagerly anticipating Mad Men's Season 7. Plus, Christina Hendricks talks to USA Today about her newest project. Read on for more:
• Jon Hamm narrates the latest Funny or Die video that features Downton Abbey's Michelle Dockery playing Lady Mary as a homicide detective alongside Michael Chiklis.
• The New York Daily News is looking forward to the return of Mad Men, "an AMC crown jewel, and one of the reasons this is a golden age of television drama."
• CBS News predicts that Mad Men will be the Breaking Bad of 2014: "As the final chapter begins, more viewers will likely be jumping on the Mad Men bandwagon."

• Christina Hendricks speaks with USA Today about working with Christian Siriano, who designed the "absolutely beautiful" costumes and look for the animated character she voices in Disney's The Pirate Fairy.
• According to Entertainment Weekly, Mad Men is nominated for a Costume Designer's Guild award in the category of Outstanding Period/Fantasy Television Series.
• Variety says that Mad Men will be one of the featured shows at this year's Paleyfest.
• Entertainment Weekly reports that Mad Men's Season 6 was the fifth-most downloaded TV season on iTunes in 2013. [No link]
• The Washington Post includes Jon Hamm in a gallery of famous people who used to be teachers.
• Geeks of Doom features an animated short where Sherlock Holmes uses his deductive reasoning to spoil Mad Men (and Breaking Bad).
• Courtesy of Technology Tell, catch Bryan Batt singing the national anthem before the Sugar Bowl last week.
• To stay up-to-date with all the latest Mad Men news, sign up for the Mad Men Memo.
Read More