Press
How to Improve in the Art of Seduction With Help From Roger Sterling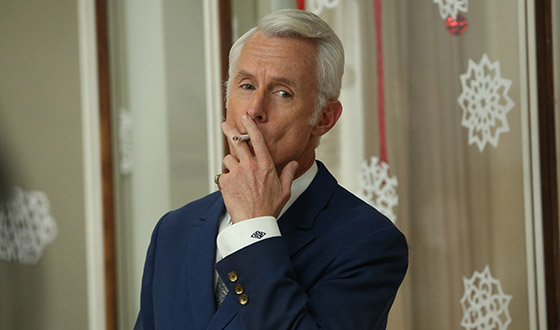 "When God closes a door, he opens a dress." Words to live by — if you're Roger Sterling, that is. The dashing ad exec not only possesses a rapier wit, he's pretty smooth with the ladies, too. How does he do it? Well, you can learn the secrets of Roger's success — not just in the romance department — from the man himself with Sterling's Gold: Wit and Wisdom of an Ad Man, a compendium of tips, quips and quotes from SC&P's master of persuasion.
Need to see — not just read — how it's done? This Sunday Jan. 26 at 6AM/5c, AMC will present encores of three Mad Men episodes showing "Roger Sterling: Swordsman" at the top of his game. Watch as he seduces Joan yet again (Season 4, Episode 9: "The Beautiful Girls"); Megan's mom, Marie (Season 5, Episode 7: "At the Codfish Ball"); and even his ex-wife Jane (Season 5, Episode 9: "Dark Shadows"). Somethings are just worth repeating.
Click here to buy Sterling's Gold on Amazon.com.

Click here for Mad Men's full on-air schedule for AMC.
Read More