Press
Christina Hendricks Talks Mad Men's Final Season; GQ Dubs Elizabeth Moss a Babe of the Year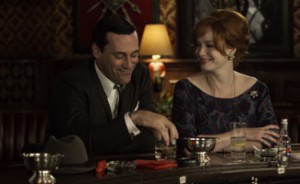 This week, the Toronto Star discusses the mood on the Mad Men final season set with Christina Hendricks, while  Elisabeth Moss is one of GQ's "Babes of the Year." Plus, The Hollywood Reporter chooses "The Wheel" as one of its favorite Thanksgiving episodes. Read on for more:
• Christina Hendricks tells the Toronto Star, "Every time a new script arrives we just fall on it and tear it apart looking for clues as to where our characters are going to wind up."
• The Hollywood Reporter cites Season 1's "The Wheel" as one of TV's best Thanksgiving episodes.
• GQ dubs Elisabeth Moss one of its "Babes of the Year," recognizing her for "Foreign Accent of the Year" (from Sundance's Top of the Lake miniseries).
• Showbiz 411 shares tidbits from Matthew Weiner's moderation of a panel discussion following a screening of American Hustle.
• Metro's review of A Young Doctor's Notebook, starring Jon Hamm and Daniel Radcliffe, calls it "reassuring" to find the production "hitting its scurrilous stride once more."
• Bustle is thankful this Thanksgiving for nine TV characters, including Bob Benson, who "made our summer TV viewing a whole lot more interesting."
• A.V. Club continues its reviews of Mad Men's Season 1 episodes, awarding an A to "New Amsterdam."
• Business 2 Community suggests that Mad Men has real-life lessons applicable to today's advertising industry.
• To stay up-to-date with all the latest Mad Men news, sign up for the Mad Men Memo.
Read More