Press
Time Names Mad Men One of the Year's Best; THR Ranks the Drama in Cable's Top 20 of 2013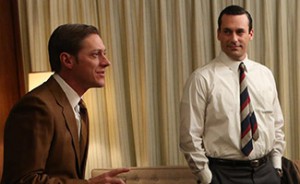 This week, Mad Men and Season 6's "For Immediate Release" appear on Time's lists of best TV shows and best episodes. Plus, The Hollywood Reporter, The New Yorker and the American Film Institute applaud the drama on their year-end roundups. Read on for more:
• Time names Mad Men one of 2013's top 10 shows, calling it "the most genuinely surprising drama on TV."
• One of Time's best TV episodes of 2013 is Season 6's "For Immediate Release" because "this exhilarating episode zigged where the season had been zagging."
• The Hollywood Reporter considers Mad Men's one of the year's top 20 cable dramas, describing it as "one of the brightest lights in television."
• The American Film Institute names Mad Men to its list of TV Programs of the Year, according to Indiewire. HitFix notes that Mad Men is only one of three shows to return from last year's list.
• The New Yorker, resistant to top 10 lists, says Mad Men is one of the shows this year that it "enjoyed the most."
• Mad Men received a Writers Guild of America nomination, for best drama series, according to the Chicago Tribune.
• USA Today notes the trend of actors screening their directorial debuts at next month's Sundance Film Festival, citing John Slattery's God's Pocket as an example. FirstShowing.net has six photos from the movie, which stars Philip Seymour Hoffman and Christina Hendricks.
• Gothamist checks out the Drapers' first home, which is actually in Pasadena, Calif. and is "the infamous site where Betty shot some pigeons with a cigarette dangling off her lips."
• Mad Men's set decorator, Claudette Didul, speaks with the Los Angeles Times about the importance of the vintage shops on West Magnolia Boulevard in Burbank, Calif.
• According to Enstars, Elisabeth Moss will be a guest judge on this week's episode of Lifetime's Project Runway.
• Check out the trailer at Broadway World for Disney's The Pirate Fairy, which features voice of Christina Hendricks.
• To stay up-to-date with all the latest Mad Men news, sign up for the Mad Men Memo.
Read More