Uncategorized
Q&A – Teyonah Parris (Dawn)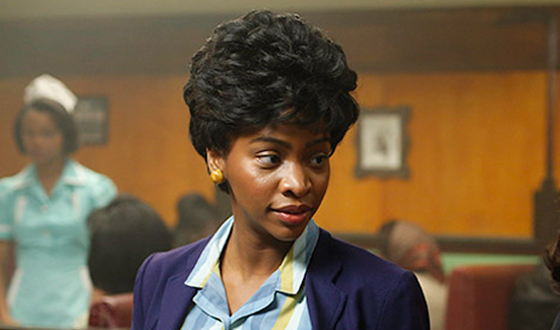 Teyonah Parris, who plays Dawn Chambers on AMC's Mad Men, talks about returning to set and imagining her character's backstory.
Q: How was the experience this past year different for you, once you had a full season under your belt?
A: You feel a little more comfortable. You never know if you're going to last, so that little bit of mystery remains, but you just enjoy it and think, "Well, I made it through one season. I guess anything that happens now is fine." I'll just enjoy it as it comes along.
Q: Dawn gets in trouble covering for a co-worker. Have you ever been in a sticky situation like that?
A: No, I actually don't think I have. I know that's good, but now I'm like, "God, I'm boring!" [Laughs]
Q: Were you concerned for the future of your character when you read that script?
A: Anytime something happens on the show, that goes through your mind: "Uh-oh, this might be the end!" I was just happy for what she was going through in that episode. It was exciting and fun and something that does happen. So, at that point, it was kind of like, "Well, if she goes down, at least she was helping somebody out."
Q: You've talked about falling out of your chair during your first ever Mad Men scene. Any mishaps this past season?
A: [Laughs] I know I don't sit in that chair now, that's for sure! You mainly see Dawn in the same spot, so everything in that part of the office she has now mastered and so has Teyonah. So, I haven't had any craziness happen, [but] my stockings! I always rip them – always. They have to have a couple extra on set with me because of it. Once, I didn't even get my foot in and my fist had somehow made it through the entire sheer.
Q: What do you think about the GIF of the awkward hug between Joan and Dawn?
A: A couple of fans tweeted me, so I did see it. It was funny! When we were doing it, I was like, "Oh, this is awkward," but I didn't think anything else of it.

VIDEO: Inside Episode 605 Mad Men: The Flood
Q: You've mentioned the Dawn/Don names can be confusing on set. How did you work around that?
A: They sometimes call my character DC because Dawn's last name is Chambers, so Janie [Bryant] from Costumes will use DC. On set, it's still confusing because sometimes I'm like, "OK, we're starting from Dawn and they're like, 'No, Don!'" People try to put a little emphasis on "Dawn", but we all still get confused.
Q: You've praised Randee Heller's work as Ida Blankenship. What do you think sets Dawn apart from Don's other secretaries?
A: I think Dawn is a hard worker – not that others weren't – but I think Dawn just works hard and she keeps her head down. I think for the most part, her goal is to just show up, do a great job and then just go home. A lot of the other girls in the office are more vocal and put more of themselves out there. Dawn is different in that she doesn't have the desire to stand out.
Q: We don't know much about Dawn's life outside of work. Have you been given any notes on the character's backstory? Have you invented any backstory yourself?
A: They leave the backstory to you until they reveal a little bit of it in a script. I had made up this whole other thing in my mind, so you have to adapt. In the scene with Peggy where I talk about my mom and my brother, that was something new to me because I had imagined that I had a brother and a younger sister and my mom and dad in the household. So, you go in with your own story and as things are revealed, you see what happens.
Q: You research music from the show's time period to help you get into character…
A: It's just something I like to do. Everyone's process is different, but it just puts me in that mind frame and the right head space. There's a lot of great music from then; music that tells stories. I definitely love Diana Ross and Gladys Knight. I just think they're beautiful and classy and amazing. I enjoy the music.
Q: You grew up around theater and studied at Juilliard. What's the biggest difference between acting for theater and television?
A: In theater, you do it all in one go. There's no stopping – if you stop, that is an issue. There's a thrill because anything can happen and we have to figure out how to tell the story without stopping. That part of theater, I love. It can change every night and still tell the same story, just a different way. There's multiple ways to get to the end and I think there's a beauty in figuring that out every night. In film, you work on a scene for a short amount of time and you can stop and go back and tweak, but at the same time, that's what I like about film – that you do get to try it a few different times – and then after your performance, it's really out of your hands. The very things that make [theater and television] different is what I love about each of them.
Click here to read an interview with Christina Hendricks, who plays Joan Harris on AMC's Mad Men.
Read More