Press
Need a Last Minute Holiday Gift? Here Are More Ideas For Mad Men Fans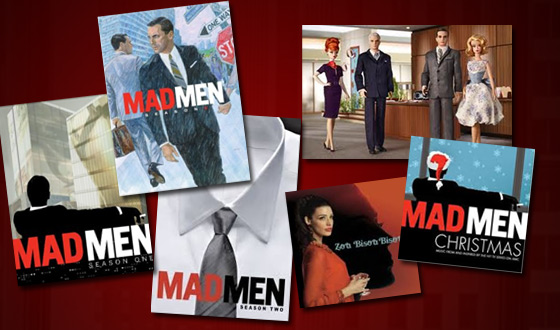 Still have some last-minute shopping to do? Here's some help: Introduce the uninitiated to Don Draper's exploits with DVDs, Blu-rays or downloadable and streaming episodes before the final season begins in 2014. Or feed a Maddict's current addiction with these gifts from the AMC Mad Men shop…
Mad Men Christmas CD
This 12-track CD is filled with music to get friends in the holiday spirit. Hits include Otis Redding's "Merry Christmas Baby," Dean Martin's rendition of "Baby, It's Cold Outside," and a previously unreleased remix of "Zou Bisou Bisou."
Available exclusively at Target.
Original Score: Vol. 1  CD
This CD is filled with the music from the first season including "A Beautiful Mine," "The Snows of Yesteryear" and "The Carousel."
Buy the CD
Season One DVD
There's nothing like your first time. Experience Mad Men from the very beginning — Peggy's first day, Don's Kodak presentation, Betty's way with a rifle — with the season that started it all.
Buy the Box Set |  Buy on iTunes | Buy on Amazon Instant and Blu-ray
Barbie Dolls
These Barbie Dolls are donned in classic outfits from the show, complete with accessories, making them must-haves for fans, fashionistas or nostalgic kids-at-heart.
Buy Don Doll | Buy Betty Doll | Buy Joan Doll | Buy Roger Doll
The Cocktail Culture App
How about a little something for yourself? This iPhone app challenges you to make an Old Fashioned as good as Don can or a Blue Hawaiian worthy of Megan.
Buy the App
Visit the official Mad Men shop for additional gift ideas.
Read More