Press
Mad Men Named One of TV Guide's Top Series Ever; Jon Hamm Stars in New Movie Trailer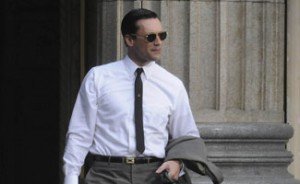 This week, TV Guide's ranking of the all-time greatest series includes Mad Men, while a trailer for a movie starring Jon Hamm makes the rounds. Plus, Mad Men and various Season 6 episodes are on several year-end lists, including Us which ranked the drama as 2013's best show. Read on for more:
• TV Guide selects Mad Men — a "gorgeous but bleak paean to the swinging '60s" — as one of the 60 best series of all time.
• Vulture has the trailer for Million Dollar Arm, a film starring Jon Hamm, which will hit theaters in May 2014.
• Us names Mad Men the year's most outstanding TV show, saying, "The '60s drama proved profoundly moving, with adman Don Draper (Jon Hamm, never better) finally, even triumphantly, owning his shady past."
• HitFix chooses Mad Men as one of 2013's best, calling it "one of the most satisfying, immersive viewing experiences there is."
• Forbes also applauds the "well-wrought and unsettling" Mad Men as one of the year's best dramas.
• Mad Men's "excellent moments," including Don and Betty's camp reunion and "the mysterious, shorts-sportin' Bob Benson," placed the show on USA Today's list of the year's outstanding dramas.
• Mad Men is deemed one of 2013's best by the New York Daily News, which calls the drama "engaging and provocative."
• "The Crash" — "the sixth season's most purely comic episode" — is on Vulture's list of the top drama TV episodes of 2013. Honorable mention goes to "Better Half," "A Tale of Two Cities" and "The Quality of Mercy."
• "In Care Of" ranks as one of Zap2it's most outstanding episodes of the year, asking, "Is this the rock bottom Don must hit in order to finally become a better man?"
• Complex picks "The Doorway" as one of the year's best TV episodes, calling it "a long, weird, disorienting journey, and one of TV's finest moments in 2013."
• A promo for the upcoming Season 5 premiere of NBC's Community (which can be seen at TheWrap) has a Mad Men look about it.
• Digital Spy highlights Jon Hamm's comedy chops, noting that he's "game for anything — you only need to look at his television work for proof."
• Bob Benson is one of Grantland's 10 best sidekicks of the year.
• A.V. Club looks back at Season 1's "Babylon," awarding it an "A."
• Salon honors Young Dick Whitman as one of the year's most thankless TV roles, since the actor who plays him (Brendan Killham) "broods aplenty but gets to participate in almost none of the sexiness."
• Digital Spy reports that Lifetime will air Flowers in the Attic, starring Kiernan Shipka, on Jan. 18.
• According to Deadline, Eric Ladin has been cast in an HBO pilot titled The Brink.
• To stay up-to-date with all the latest Mad Men news, sign up for the Mad Men Memo.
Read More