Press
Jon Hamm Interviews Ellie Kemper for EW; Atlantic Dubs "Favors" One of Year's Best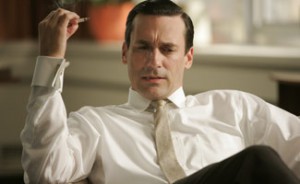 This week, Entertainment Weekly taps Jon Hamm to conduct a Q&A with Ellie Kemper, while The Atlantic chooses "Favors" as one of the year's most impressive TV episodes. Plus, Aaron Staton's Ken Cosgrove gains recognition for the jig he performed in "The Crash." Read on for more:
• Jon Hamm interviews his former student, Ellie Kemper, for Entertainment Weekly. One topic they discuss: hosting Saturday Night Live.
• The Atlantic considers "Favors" — which features the "wrenching scene" when Sally walks in on Don and Sylvia — one of the best TV episodes of the year.
• Vulture calls Aaron Staton's Ken the year's best drug user, recognizing him for his "perfect little jig. With a cane and everything."
• Jay R. Ferguson's Stan wins Vulture's vote for the most impressive TV beard.
• Vulture also gives Bob Benson the award for best shorts, which displayed his "set of magnificent gams."
• Speaking of which, James Wolk chats with the Sioux City (Ia.) Journal about the famously "sexy shorts" he sported on Mad Men as Bob Benson.
• Mad Men is voted one of the year's top shows in HitFix's 2013 Television Critics Poll.
• Esopus magazine features a look into Mad Men creator Matthew Weiner's mind with reproductions of items from his collection of handwritten notes on the series. Click here to find out how to get the issue.
• Linda Cardellini has booked a recurring role on FOX's New Girl, The Hollywood Reporter says.
• Reviewing the Season 6 Blu-ray, Audiophile Audition calls Jon Hamm's performance "dazzling."
• To stay up-to-date with all the latest Mad Men news, sign up for the Mad Men Memo.
Read More