Uncategorized
1960s Handbook – Mary Poppins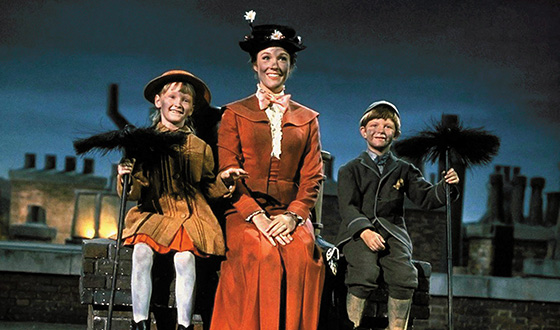 Alluded to in Mad Men Season 4 Episode 12, the film Mary Poppins opened in theaters September of 1964. Starring Julie Andrews and Dick Van Dyke, the movie was a major hit with audiences as well as critics, who swooned over the visual effects. Never before had live-action characters appeared alongside animated characters to such a believable degree.
Bringing Mary Poppins to the big screen was no easy feat for Walt Disney, who spent 15 years wooing Travers before she reluctantly agreed to let his studio adapt her stories. In return, she received $150,000, a percentage of the gross and approval of the script. She also demanded that the movie be live action, not animation. As production progressed, however, Disney and Travers' relationship grew strained. Travers was ultimately unhappy with the final product, believing that it strayed too far from the spirit of her books.
Critics, however, heaped on the praise. "The sets are luxuriant, the songs lilting, the scenario witty but impeccably sentimental, and the supporting cast only a pinfeather short of perfection," wrote Time magazine. "Disney put a lifetime of wizardry into Mary Poppins, achieving with human actors the same happy qualities he injected into his cartoon creations," raved the Associated Press.
Mary Poppins went on to win five Oscars, including Best Actress and Best Original Music Score. The victory was especially sweet for Andrews, who also won a Golden Globe for her performance. Just prior to landing the role of Mary Poppins — her first-ever movie role — she was passed up for the part of Eliza Doolittle in the movie adaptation of My Fair Lady, a role she had played numerous times on stage. While the media had considered her a shoo-in for the role, Warner Bros. opted to cast Audrey Hepburn. During her Golden Globe acceptance speech, Andrews slyly thanked Warner Bros. for giving the role to someone else: "My thanks to Mr. Jack L. Warner, who made a wonderful movie and made it all possible."
Mary Poppins became the top-grossing film of 1964 and was re-released in 1973 and 1980. Andrews' next film, The Sound of Music, became the top-grossing film of 1965.
Read More