Press
Mad Men Season 6 DVD and Blu-ray Sets on Sale Now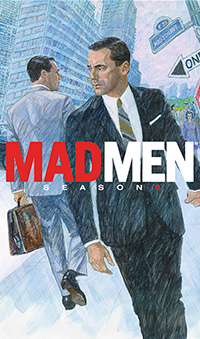 Mad Men: Season Six is now available on Blu-ray and DVD. Four-time Primetime Emmy winner for Outstanding Drama Series and winner of three consecutive Golden Globes, Mad Men, created by Matthew Weiner, explores the glamorous and ego-driven "Golden Age" of advertising in the late 1960s New York City. Don Draper (Golden Globe winner Jon Hamm) and the rest of the award-winning cast continue to captivate as they deal with the aftereffects of adultery, divorce, a merger, and an ever changing social climate. The 3-disc Blu-ray and 4-disc DVD sets also contain featurettes examining the time period and culture of the Mad Men era.
Click here to purchase your Mad Men Season 6 DVD or Blu-ray set today.
Blu-ray/DVD Special Features
• "Recreating an Era" Featurette: The Mad Men Season 6 Art Department takes viewers on a virtual tour of Don and Megan's apartment, Sterling Cooper Draper Pryce 1st and 2nd floor, Peggy's apartment and much, much more.
• "Turn On, Tune In, Drop Out" Featurette: Close friends of Timothy Leary, along with journalist Don Lattin, shed light on the man known as the guru of the psychedelic drug movement.
• "Summer of Love" Interactive Gallery: An interactive special feature celebrating the turbulent Summer of Love.
Read More