Press
Kevin Rahm Talks Ted & Peggy With Access Hollywood; Harry Hamlin Chats With USA Today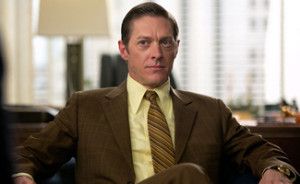 This week, Access Hollywood speaks with Kevin Rahm about Peggy and Ted, while "Christmas Waltz" is chosen by Glamour as one of TV's top holiday episodes. Plus, Harry Hamlin talks about speed with USA Today. Read on for more:
• Kevin Rahm reminisces with Access Hollywood about Season 6, remarking that viewers are rooting for Ted and Peggy to be together because "he would treat her well, once they were together, even though it didn't seem that way at the end of last year."
• Harry Hamlin tells USA Today about the firsthand knowledge he had when shooting Season 6's "The Crash."
• Glamour's favorite holiday TV episodes includes Season 5's "Christmas Waltz," where Don cheers up Joan. [No Link]
• Trumpeting Mad Men's Season 6 DVD release, USA Today declares, "I really enjoyed this season, which took admirable risks (i.e. the speed episode) and really allowed [Jon] Hamm to shine.
• James Wolk is one of The Hollywood Reporter's next-gen stars. He shares that his Jewish grandparents are still hoping "I'll find my way to graduate school." [No Link]
• Beauty World News interviews Lana Horochowski, Mad Men's lead makeup artist, about achieving the retro look and why Peggy is her favorite character.
• The Toronto Star reports that Semi Chellas will receive a Canadian Screen Award for recognition of her "exceptional contribution to Canadian television."
• Zap2it posts a Season 6 Blu-ray clip from a special featurette that explains the thought process behind the design of Don and Megan's apartment.
• The Virginian-Pilot's Season 6 DVD review praises Mad Men, which "keeps us as fixated as ever, while the fine writing and production values, combined with well-honed, multi-layered performances, make us glad to be watching."
• National Examiner's review of the Season 6 DVD credits Jon Hamm for leading "a stellar cast." [No Link]
• To stay up-to-date with all the latest Mad Men news, sign up for the Mad Men Memo.
Read More