Press
USA Today Interviews Jon Hamm; Christina Hendricks Tells WSJ Her Dream Mad Men Ending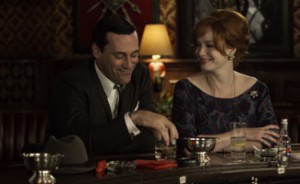 This week, USA Today asks Jon Hamm about the World Series, while Christina Hendricks shares her preferred Mad Men ending with The Wall Street Journal. Plus, Janie Bryant talks to Elle. Read on for more:
• USA Today emails with Jon Hamm (after his throat surgery) about rooting for his St. Louis Cardinals in the World Series against the Boston Red Sox.
• Christina Hendricks talks to The Wall Street Journal about the Thelma and Louise ending she envisions for Joan and Roger.
• Janie Bryant answers Elle's weekly questionnaire and describes herself in five words or less as "creative, happy, glamorous, dramatic."
• Funny or Die posts a video of Kiernan Shipka's latest turn as the child psychologist to the stars, which pits her against Homeland's Morgan Saylor as a rival psychologist.
• Elle speaks with Lana Horowchowski, Mad Men's makeup artist, about achieving the retro-makeup look and says that "everyone always wants to be Joan."
• Lana Horowchoski, Mad Men's makeup artist, is interviewed by OK! Magazine about the looks she creates for the drama's different characters.
• Lana Horochowski tells Style Bistro how to achieve Megan's "perfect cat eye," as well as Joan's "classic red lip."
• The Huffington Post shares 11 pieces of advice from Mad Men that have "stood the test of time."
• To stay up-to-date with all the latest Mad Men news, sign up for the Mad Men Memo.
Read More