Uncategorized
Q&A – Brian Markinson (Arnold Rosen)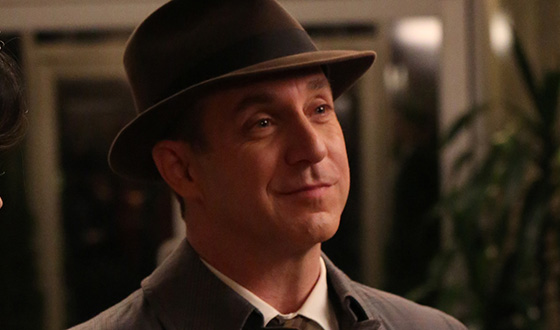 Brian Markinson, who plays Arnold Rosen on AMC's Mad Men, talks about infidelity and keeping his role on the show a secret.
Q: You were a cop on The Killing and a doctor on Mad Men. Is there a role you haven't played yet but have always dreamt of?
A: I haven't played Richard III. I'm a big theater baby. I didn't get in front of the camera until I was 30. I've played everything from serial killers to dads who love their kids to cops and lawyers. I've been really fortunate. Richard III is a role that I would love to play.
Q: You're a veteran of scifi. Was it different acting in a real-world drama like Mad Men?
A: Because I now live in Vancouver, there's a lot of science fiction that is represented up here. What I love to do the most is exactly what we were doing on Mad Men. I have a fairly boring life in a great way. I've got two kids and a wife and I live away from Los Angeles. There's fantasy involved with playing heightened reality. Dramatic television – they go a lot further than most of us mere mortals get to play in our everyday lives. The emotions are deeper, the stakes are higher. It gives you an opportunity to flex your muscles.
Q: Were you jealous that Sylvia got to have an affair but Arnold didn't? 
A: No, I have to stand up and represent all the people who've been cheated on. But anybody who has a chance to have an affair with Jon Hamm – you can't be too upset, it's understandable. I get it. [Laughs]
Q: Do you think attitudes towards infidelity have changed since the 1960s?
A: I hope not. I've been married 27 years; I'm in a faithful marriage. I guess maybe we are more tolerant of that stuff now, but I'd like to think that your vows mean something when you take them.

VIDEO: Inside Episode 611: Favors
Q: You've talked about keeping your role on Mad Men a secret. What's the trick to remaining tight-lipped? 
A: Fear of being fired! [Laughs] First rule of Mad Men is you don't talk about Mad Men. It really was like having to wait to open your present on Christmas, but Matthew [Weiner] said – and he was right – that good things come to those who wait. It was exciting for everyone I knew, family and friends, to turn on the TV and see all of my bald beautifulness. It does pay off to keep hush-hush. Fans are so rabid about the show. They want to know, but sometimes it's better for them not to.
Q: You'll be in Godzilla with Breaking Bad's Bryan Cranston. Did you spend any time together on set? 
A: I didn't get to work with Bryan. I worked with Ken Watanabe, who is incredible, and Sally Hawkins, who is equally incredible. It's such a huge film; the scope is so big. There are so many different worlds that inhabit this film, so I didn't get a chance to [work with Bryan], but I am a huge fan and a huge fan of Breaking Bad.
Click here to read an interview with Linda Cardellini, who plays Sylvia Rosen on AMC's Mad Men.
Read More