Press
NY Times Praises Jon Hamm in Young Doctor's Notebook; USA Today Talks to January Jones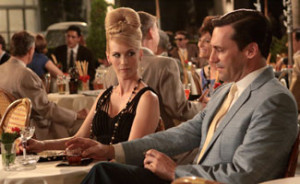 This week, The New York Times applauds Jon Hamm for his work in The Young Doctor's Notebook, while USA Today does a video chat with January Jones. Plus, Kevin Rahm books a movie role. Read on for more:
• The New York Times review of A Young Doctor's Notebook praises Jon Hamm, who "displays bountiful intelligence, depth of feeling and mordant humor."
• Jon Hamm talks to TheWrap and Zap2it about A Young Doctor's Notebook and acting opposite Daniel Radcliffe in it.
• USA Today asks January Jones five questions about her new film, Sweetwater, as well as motherhood and Love Actually.
• According to Variety, Kevin Rahm has joined the cast of Nightcrawler, a film starring Jake Gyllenhaal.
• Kiernan Shipka, who has evolved "arguably into one of the acclaimed show's principal stars," is one of USA Today's young stars to watch.
• The Art Newspaper has an account of Matthew Weiner's talk at New York's New Museum where he discusses Season 2's "The Gold Violin."
• The Huffington Post does the math and calculcates that, in 2013, Don would be 88, Roger would be anywhere from 96 to 103 and Peggy would be 74 years old.
• James Wolk tells the Boston Globe that "Not great, Bob" is "my favorite line of the entire season and that line, every time I hear that, it makes me crack up." Wolk also tells ABC News about the time he was hiking "in the middle of nowhere" and was stopped by a couple, who asked, "Excuse me. Are you Bob Benson?"
• Refinery29 talks to Jessica Paré about collaborating with Veronica Beard, a New York design team, on a blazer.
• To stay up-to-date with all the latest Mad Men news, sign up for the Mad Men Memo.
Read More