Press
Jon Hamm Pops Up on Children's Hospital; THR Names Kiernan Shipka "Master of Horror"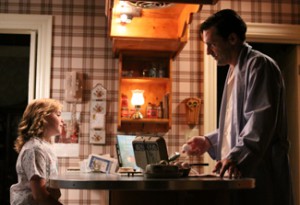 This week, Jon Hamm shows up on Children's Hospital, while Kiernan Shipka appears in The Hollywood Reporter's horror issue. Plus, January Jones talks about Mad Men's effect on her career. Read on for more:
• Entertainment Weekly has a clip of Jon Hamm's appearance last week on an episode of Adult Swim's Children's Hospital.
• Kiernan Shipka is one of The Hollywood Reporter's Masters of Horror, playing The Shining's Grady twins.
• January Jones, talking to the Orange County (Calif.) Register, says that Mad Men "helps me because it's made me more recognizable, and more of a commodity. If I hadn't been in Mad Men, nobody would have come to me with Sweetwater or X-Men."
• Grantland's review of Sweetwater says January Jones "was born to play a horror movie's final girl, and it's all the more satisfying that she gets to do so in a Western."
• InStyle reports that Lana Horochowski, Mad Men's makeup artist, is the national program ambassador of the Look Good Feel Better organization, which helps women with cancer improve their self-esteem.
• IGN asks Peyton List about her time on Mad Men, specifically Season 5's "Far Away Places."
• The Huffington Post says 13-year-old Kiernan Shipka is one of 10 stars who are younger than they come across.
• RJD2 tells Vibe "it's an honor" that Mad Men uses "A Beautiful Mine" as its theme song.
• Us Weekly reports that Ben Feldman got married last week.
• To stay up-to-date with all the latest Mad Men news, sign up for the Mad Men Memo.
Read More