Press
Jon Hamm Appears on Jimmy Kimmel Live; Matthew Weiner Talks Season 7 With TVLine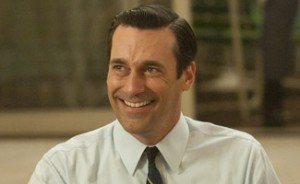 This week, Jimmy Kimmel hosts Jon Hamm, who reveals he knows how Mad Men will end, while TVLine tries to pry some Season 7 information from Matthew Weiner. Plus, check out the invite to Hamm's Emmy losers party. Read on for more:
• On Jimmy Kimmel Live, Jon Hamm reveals that he has "the sort of broad strokes as to how it [Mad Men] will end."
• TVLine learns from Matthew Weiner that, with the 14-episode split season, he "will do everything I can with those seven episodes to tell a story that they're going to say, 'What is the rest of this?'"
• The Hollywood Reporter has a copy of Jon Hamm and Amy Poehler's invitation to their Emmy Party: Losers Lounge.
• Reuters talks to Jon Hamm about A Young Doctor's Notebook, which he calls "fantastical in many ways, and macabre in many ways." The Chicago Tribune says the production, which stars Hamm and Daniel Radcliffe, "allows two fine actors to work together, and they're a double act worth watching."
• CBS Sunday Morning cites Mad Men as an example of TV's second golden age, noting that it "takes commitment to delve into the complex underbelly of Don Draper's polished exterior."
• TV Guide reports that Kiernan Shipka is the voice of a mermaid named Oona in next month's Disney Channel animated special, Sofia the First: The Floating Palace.
• Indiewire spotlights a new trailer for Sweetwater, a film starring January Jones that hits theaters on Oct. 11.
• James Wolk tells TVLine that he doesn't know if he'll return as Bob Benson, but "it would be an honor to be back there with those guys."
• Kit Williamson talks to The Backlot about Mad Men's costume department, which has such "impeccable taste" that "it took all the willpower in me not to pull the fire alarm and run out with the clothing rack."
• To stay up-to-date with all the latest Mad Men news, sign up for the Mad Men Memo.
Read More