Press
USA Today Talks Season 7 With Matthew Weiner; Jon Hamm Throws Post-Emmys Bash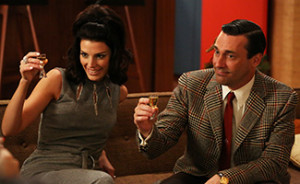 This week, USA Today tries to get some Season 7 scoop from Matthew Weiner, while Jon Hamm and Amy Poehler throw a post-Emmys party for the nominees who didn't win. Plus, Kiernan Shipka talks Sally with Vanity Fair. Read on for more:
• Matthew Weiner talks to USA Today about airing Season 7 in two parts, saying, "I only think of it creatively and it's a challenge." And Jon Hamm shares that his very full beard is an indication of "a year of laziness."
• The Associated Press reports on Jon Hamm and Amy Poehler's Emmy "losers" party. The Atlantic and E! Online showed up to the event too.
• Because Sally caught Don with Sylvia and now has a lot of power over him, Kiernan Shipka tells Vanity Fair, "I am really excited to see what she does with it. I think she could do so much bad stuff. Maybe some blackmail."
• Variety reports that Aaron Staton is set to star in a psychological horror/thriller called Preservation, to be directed by Chris Denham from his own script.
• Matthew Weiner shares with the Emmys website that the writers' room for Season 7 is open and they're "trying to make sure that everything we wanted to do we get to do."
• The Associated Press compliments the Mad Men crew for its Emmy fashion choices, even though Jon Hamm "came with a full beard, shielding the face that his fans have been waiting to see again during the show's long hiatus." The Los Angeles Times also enjoyed a pre-Emmy event look from Kiernan Shipka, while GQ names Rich Sommer to its Emmy best-dressed men's list.
• Speaking with USA Today about voicing a part in Disney's Pirate Fairy, Christina Hendricks says, "This is definitely my first pirate part, but hopefully not my last one."
• Jessica Paré and Linda Cardellini talk Mad Men fashion with Elle.
• Matthew Weiner discloses to Wetpaint that his dream guest star is Jack Nicholson: "I would like Jack Nicholson to come by and be on the show. He could play the president of anything."
• Showbiz 411 learns that John Slattery will appear in more episodes of Arrested Development.
• Talking to her hometown paper, The Baltimore Sun, Peyton List calls the members of the Mad Men cast "such incredibly intelligent people."
• To stay up-to-date with all the latest Mad Men news, sign up for the Mad Men Memo.
Read More