Uncategorized
Q&A – Kevin Rahm (Ted Chaough)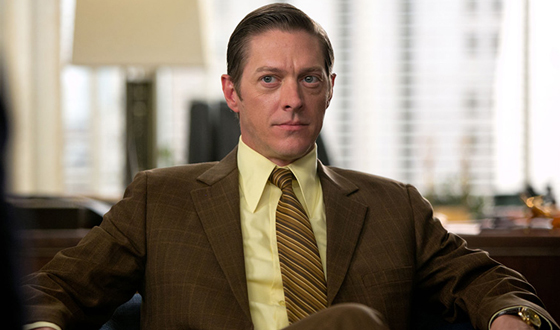 In this interview, Kevin Rahm (Ted Chaough on AMC's Mad Men) talks about his character's pilot outfit and playing drunk with Jon Hamm.
Q: Did your view of Ted change at all over the course of Season 6?
A: All of our information about Ted up until [this season] was from the point of view of Sterling Cooper Draper Pryce and mainly from Don. Now, we got to see things from Ted's point of view. I didn't change my perception, I think the audience's perception of him changed. The only real direction that I got from Matthew Weiner early on was that [Ted] did things differently than Don and that he was a different kind of boss.
Q: What kind of a boss?
A: I think Ted's point of view is that the best answer wins. The best idea wins, no matter who it comes from. He's very interested in getting the opinions of those around him. I think obviously that changed — he got a little sidetracked, taking Peggy's point of view a little more seriously than everyone else's — but overall, his point of view is: the best idea wins. It's not important, necessarily, that it be his idea.
Q: What did Janie Bryant tell you about Ted's personal style? 
A: Her whole thing with Ted was that he was not Don — so a lot more colors, a lot more patterns, a lot more fashion forward as far as the year. I know there was something to the extent of him being the anti-Don in dress. What's so great about the show is that the props are so specific and the wardrobe is so specific that it really informs the character.
Q: The plane scene, where Ted flies Don to a client meeting, was made into a GIF. Have you seen that? Did you get to keep those aviators?
A: I saw that. I think that was my first experience with being "GIFed," if that's the right terminology. Someone sent it to me, I think on Twitter, pretty quickly. Yeah, I laughed out loud.
I think those [aviators] were vintage Ray-Bans. They did not let me keep those! I never get any information until I get the script, so I didn't find out Ted was a pilot until I tried on the glasses and the bomber jacket. What I loved about the plane scene was that it put Ted literally in the driver's seat over Don. It was the first time that he got the best of Don since they had merged. I enjoyed him having a little power over Don.
Q: Did you have trouble keeping a straight face watching Jon Hamm do his "crying baby" impersonation in "The Quality of Mercy"?
A: That whole scene was difficult between Lizzie's looks and Christina and hearing Jon's "wahs" — we did it several different ways; there were some really big ones, some dismissive ones. We had a lot of fun during that scene. Any time you're in that conference room, it takes longer because you have to shoot all the way around the room. Each set-up, we did at least four takes and there were probably 20 set-ups in the room that day.
Q: Ted decides to go to California to distance himself from Peggy. Would you have made the same decision?
A: It's a catch-22 because from a career point of view, I want to choose Peggy because I want to work with her, but I like that the writers chose that Ted chose to stay with his wife. I like that he's different in that way than the other guys.
Q: Are you afraid Ted might start dressing like Harry if he does end up in California?
A: There's a shot when Harry's on the phone, talking to Don in his hotel room and he has the shorts and the shirt open. Unfortunately, because of the angle they used when they edited it, what you missed were the white loafers – the grandpa shoes! I hope I'd get to wear those as much as possible, and I've been deliberately working on my tan.

VIDEO: Inside Episode 613 Mad Men: In Care Of
Q:  Robert Morse said that Jon Hamm is brilliant at playing "drunk scenes." Did you get any tips from Jon for your drunk scenes in "Man with a Plan"?
A: Slats was directing that episode where Don got Ted drunk. It was so daunting to play drunk, but I felt like I was in good hands between Jon Hamm and John Slats.
Q: Is Slats your nickname for John Slattery?
A: I was made fun of because for some reason, for the first several months, I was saying Slatterly. So I just started calling him Slats so I wouldn't mess it up.
Q: Jay R. Ferguson (Stan Rizzo) played your boss in Judging Amy. Do you tease him now that you're playing his boss?
A: Oh yeah, I make sure he's aware of it every single time. He's always aware of who's in charge! [laughs]
Click here to read an interview with John Slattery, who plays Roger Sterling on AMC's Mad Men.
Read More