Press
Matthew Weiner Talks Final Season; Christina Hendricks Wants a Joan Souvenir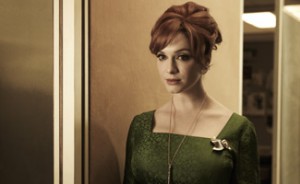 This week, while promoting his new film, Matthew Weiner offers some Mad Men tidbits and talks about casting his four sons in his projects. Plus, Christina Hendricks tells New York about the purple dress she covets. Read on for more:
• USA Today learns from Matthew Weiner that, in writing Mad Men's final season, "I don't want to leave anything on the table. It has its own organic direction."
• While talking about his new movie, You Are Here, Matthew Weiner tells Vanity Fair he hopes Mad Men's audience will see the show's ending as "another step in [Don's] development."
• For You Are Here, Matthew Weiner says he "cheated a little bit," because nearly his entire Mad Men crew worked on the picture, according to the Associated Press.
• Matthew Weiner talks to New York about casting his sons, Arlo and Ellis, in his new film, You Are Here. He says, "If they stunk, I would have cut them out of the movie!"
• TheWrap predicts that Matthew Weiner's feature film directing debut, You Are Here, will earn "an avalanche of press attention and a nice deal."
• Christina Hendricks tells New York she'd love a memento from Joan's wardrobe once Mad Men wraps for good.
• Smithsonian.com interviews Janie Bryant, who says that her costume design for each episode starts with the script because it's "inspirational to read what the characters are saying to each other, what actions they're taking, where each scene is being set."
• According to Women's Wear Daily, Janie Bryant has some fashion advice for female politicians so they can "look fabulous and powerful, too."
• To stay up-to-date with all the latest Mad Men news, sign up for the weekly Mad Men Memo.
Read More