Press
Matthew Weiner on Film Directing Debut; Jon Hamm's UK Series Set for US Premiere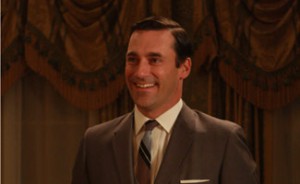 This week, Variety talks to Matthew Weiner about the film he directed, while A Young Doctor's Notebook, which stars Jon Hamm, will air on Ovation next month. Plus, Ben Feldman has booked a recurring guest-star TV role. Read on for more:
• Matthew Weiner speaks with Variety about how his feature film directorial debut, You Are Here, came to be.
• Broadway World announces that Ovation will premiere the British series A Young Doctor's Notebook, starring Jon Hamm and Daniel Radcliffe, on Oct. 2.
• According to TVLine, Ben Feldman will appear in multiple episodes of Season 2 of FOX's The Mindy Project.
• Bryan Batt tells Broadway World that Sal is an appealing character "because everyone, at some point in their life, felt like they didn't fit in and felt like they had to alter themselves in some way to fit in."
• Refinery 29 reports that Janie Bryant will make a presentation about Mad Men's impact on fashion next Monday at the Smithsonian's Natural History Museum.
• A.V. Club talks to the showrunner of FOX's Bob's Burgers about hiring Jon Hamm to voice a talking toilet.
• To stay up-to-date with all the latest Mad Men news, sign up for the weekly Mad Men Memo.
Read More