Press
Matther Weiner Named Emmy Icon by THR; Kiernan Shipka Stars in Funny or Die Video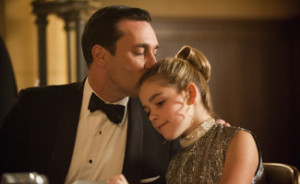 This week, The Hollywood Reporter dubs Matthew Weiner an Emmy icon, while Funny or Die features Kiernan Shipka in a video as the child psychologist to the stars. Plus, TV Guide gets some Season 7 teasers from Weiner. Read on for more:
• Matthew Weiner, named one of The Hollywood Reporter's Emmy icons, says that the number of Emmys Mad Men has won is "completely surreal."
• Entertainment Weekly showcases a Funny or Die video starring Kiernan Shipka as a child star psychologist.
• TV Guide learns from Matthew Weiner that Season 7 "will be a completely new story and it will wrap up the end of the show."
• Variety reports that Oscar-winning screenwriter Robert Towne is joining Mad Men's Season 7 writing staff as a consulting producer.
• Don Draper is named in a new book as one of Time's 100 most influential people who never lived.
• Elisabeth Moss jokes with Postmedia News about Mad Men's secrecy: "Everyone on Mad Men is going to join the CIA after we wrap because we've all become excellent secret keepers."
• The Hollywood Reporter floats ideas for Mad Men supporting characters that could star in a spin-off of the drama.
• WhatCulture names eight supporting Mad Men characters that "don't get the recognition they deserve."
• At New York Fashion Week, Christina Hendricks tells Elle she knows nothing about Season 7: "If I said a word, I'd get fired, then shot. So it's better they don't tell me anything!"
• Harry Hamlin knows what will happen in Season 7 but tells The Wall Street Journal, "I can't really give you any clues about what's going to happen in the future, or I'd have to join the witness protection program."
• TheWrap reports that John Slattery will narrate a retrospective of Esquire's 80-year history, which will air on the new Esquire Network.
• The New York Times reports that Mad Men's Season 7 will be split into two seven-episode parts and air in 2014 and 2015 and observes, "The one benefit is the addition of one episode beyond what had been originally planned."
• To stay up-to-date with all the latest Mad Men news, sign up for the weekly Mad Men Memo.
Read More