Games, Polls & Quizzes
What's Your Favorite Season of Mad Men So Far?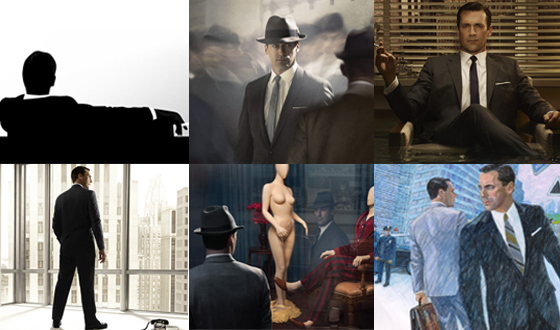 A lot has happened over the course of Mad Men's six seasons, from the end of Don's marriage with Betty to the beginning of his life with Megan. You've witnessed the death of Lane Pryce and the birth of Sterling Cooper & Partners. Picking your favorite season can be like choosing between Don's heartfelt Hershey's pitch and Peggy's "Pass the Heinz" campaign, but if you had to pick just one, which one would it be?
Can't remember what happened when? Here are some highlights from each season:
Season 1: Don Draper, a Sterling Cooper ad exec (living under a false identity) finds his life falling apart around the time his estranged brother Adam pays a visit. Agency up-and-comer Peggy Olson has an affair with co-worker Pete Campbell. Complications ensue.
Season 2: Don Draper's affair with his client's wife Bobbie Barrett has consequences. Secretary Joan Holloway breaks things off with boss Roger Sterling, then sees him leave his wife for the new secretary Jane. Don visits former wife Anna Draper in California. Sterling Cooper is sold to British conglomerate PPL, who install Lane Pryce to oversee their new acquisition.
Season 3: Don gets Conrad Hilton as a client while his wife Betty contemplates an affair with Henry Francis. Sal is fired after rebuffing sexual advances from client Lee Garner Jr. Don reveals his true identity to Betty, who requests a divorce. Roger, Cooper, Don and Lane are fired then start a new agency.
Season 4: Sterling Cooper Draper Pryce hits hard times after losing Lucky Strike. Joan becomes pregnant as Greg is deployed to Vietnam. Anna dies, leaving Don her engagement ring. Don proposes to his secretary Megan shortly after breaking up with agency consultant Faye.
Season 5: Don's new wife Megan impresses her SCDP colleagues. Joan is promoted to partner at some personal cost, while Peggy leaves the company to pursue a career elsewhere. Lane's embezzlement has tragic results.
Season 6: Don sleeps with his neighbor, Sylvia. Trudy kicks Pete out. SCDP merges with CGC, winning Chevy and creating SC&P. Don reveals his true childhood during a Hershey pitch. Ted plans to move to California. Don is put on leave.
Click after the jump to vote for your favorite Mad Men season.
Read More