Uncategorized
Q&A – Ben Feldman (Michael Ginsberg)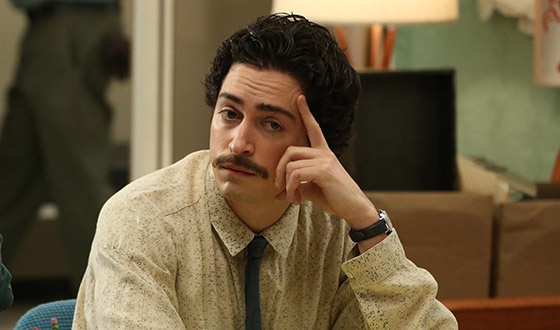 In this interview, Ben Feldman (Michael Ginsberg on AMC's Mad Men) talks about feeling like "the new guy" and playing a prank on set.
Q: Ginsberg has quite the mustache this Season! Is it real?
A: It was real to an extent. A bunch of us grew hair out last Season so they could see what we had, then they shaved it down to what they wanted it to look and built fake ones. What you saw was a version of what I actually did grow. None of my friends believed me, but I swear to God I grew that! I think on-set was the only safe zone where you didn't get made fun of. In real life, when I actually did have that grown out, I constantly got made fun of every day. There were plenty of Colonel Sanders and other jokes.
Q: If you could describe Ginsberg's style in one word, what would it be?
A: Colorful? Nuts? Janie Bryant is just one of the most brilliant people within miles of the Mad Men set. She never ceases to amaze me with the ideas that she comes up with for that character. She definitely goes out of her way to make sure that if I don't look at least slightly offensive in some way, then that idea gets tossed. She makes me look ridiculous without stepping outside of the world that we're all working in.
Q: Last year you were the new guy. How was the experience different this season?
A: I think I'll always feel like the new guy on this show. There's not a day that goes by where I don't look around and go: "Wow, this is one of my favorite shows that I've watched from my couch for years." It's surreal being inside of it now. I don't think I'll ever fully feel like I've earned my place there, but it gets better. It's like joining a fraternity or being an exchange student showing up to high school junior year when everybody else has been around since the beginning.
Q: You told U.S. Weekly about a prank on set involving the men taking their pants off while shooting a scene with Elisabeth Moss. Tell me more about that…
A: [Laughs] I was still sort of "the new guy" and was praying that it wasn't some sort of hazing thing. My biggest fear was that I would be the only one who did it, but fortunately everybody went through with it. What was funny about that was Jon Hamm wasn't standing next to us when the idea came up and seconds before they started rolling, Jon coincidentally just walked over and said, "Pants off?" I think Lizzie kind of just knew that would happen. She just rolled her eyes.
Q: Talk me through the scene where Ginsberg nails Stan with an X-Acto knife in the arm… 
A: We did it a whole bunch of times and I had to throw it in the general direction of his head and they did some things in post [production] to make it look like it actually stabbed him. I'll say this: it is not difficult for me to look like I have terrible aim!

VIDEO: Inside Episode 608: The Crash
Q: You've mentioned how detailed the sets are. Is there anything that you were particularly impressed by that never made it onto the screen?
A: In my house, down in my screening room, my fiancée and I have an old Playboy from 1966 and an Esquire from around that time too. They're like sacred artifacts here. Usually if you do a show, it'll be some current magazine with a dummy cover over it to make it look vintage, and in the Mad Men world, everything is real. It's hard to walk onto the set and feel like you're on a set. You really become transported to a completely different era and decade. There's not a single inch of that set or that script that hasn't been meticulously thought out and planned. That blows me away every single day.
Q: Your dad is a Jewish advertiser and you've compared your mom to Peggy. How have their experiences affected your work on Mad Men?
A: I think in more of a subtle, cerebral kind of way. Both of them were in the advertising world — he still is — and they've been doing it for decades. I feel really close to this world because of them: Him for being a Jewish advertiser and her for being a single female growing up and coming from nothing to a power position in the advertising world. The parallels between her and Peggy are pretty impressive.
Q: Some of your first acting was in plays. What have you learned from Mad Men that you'll use in your next theater gig?
A: What I've learned from Mad Men, I think, is universal. I would say what Mad Men has taught me has been a super elevated evaluation of text in general, and understanding subtext, and understanding where a character comes from — what he means by this or by that. Hopefully, I've become a lot stronger in that department. It's a really naturalistic, subtle form of acting and telling a story in general that you don't see often in theater.
Click here to read an interview with Mad Men costume designer Janie Bryant.
Read More