Press
Matthew Weiner Applauds Robert Morse in Variety; Elisabeth Moss to Visit The Simpsons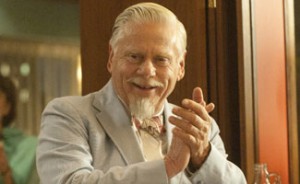 This week, Variety speaks with Matthew Weiner about the Emmy-nominated Robert Morse, while Elisabeth Moss is set for a role on The Simpsons. Plus, two Clear History teasers feature Jon Hamm. Read on for more:
• Matthew Weiner tells Variety that Robert Morse "can walk through a scene and take it over. He has one of those original voices, a true quirkiness that I love."
• According to The Hollywood Reporter, Elisabeth Moss will voice a character on the upcoming season of FOX's The Simpsons.
• Jon Hamm appears in two clips of HBO's Clear History, courtesy of Indiewire.
• Rich Sommer shares his favorite pop culture obsessions, including Breaking Bad ("I am so sad it'll be the last season"), with Broadway.com. Playbill asks Sommer about the Broadway performances that have most affected him, including Elisabeth Moss in Speed-the-Plow.

• As part of the Discovery Channel's Shark Week, January Jones is featured in a new public service announcement where she makes a plea for great white shark conservation, says The Hollywood Reporter.
• Indiewire has video of Matthew Weiner's chat with Wong Kar-Wai, ahead of a screening of the director's latest film, The Grandmaster.
• TheWrap reports that James Wolk would love to return to Mad Men because "I had so much fun on that show." Wolk tells The Backlot that he enjoyed "working with amazing actors and, in my opinion, one of the most incredible ensembles on TV."
• Since James Wolk's new series, The Crazy Ones, is set in an advertising agency, he jokes with TODAY.com: ""I only do ad agencies now. I only do strictly marketing and advertising."
• Joel Murray tells his hometown paper, the Chicago Tribune, that he gets recognized for his role as Freddy Rumsen when his hair is short.
• In an interview with the U.K.'s Gay Times, Bryan Batt compares himself with Sal: "I am an open book, [h]e is afraid. I like to think of myself as fearless. I also had to monitor my gestures and tone everything down, both for the office and the camera!"
• To stay up-to-date with all the latest Mad Men news, sign up for the weekly Mad Men Memo.
Read More