Press
Mad Men One of THR's All-Time Best; Variety on Jon Hamm Playing Anti-Hero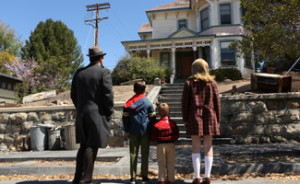 This week, The Hollywood Reporter names Mad Men one of TV's all-time best dramas, while Jon Hamm is lauded by Variety for the way he portrays an anti-hero. Plus, the Season 6 DVD and Blu-ray will be released on Nov. 5. Read on for more:
• The Hollywood Reporter makes the case for why Mad Men is one of the top five dramas of all time and why the show "will be a creative force to be reckoned with" if it nails its final season.
• Variety examines how the actors who play anti-heroes, like Jon Hamm, are able to keep the audience invested — and notes that Hamm has the "most difficult battle to stay in an audience's good graces."
• According to TV Shows on DVD, Mad Men's Season 6 DVD and Blu-ray will be released on Nov. 5.
• Matthew Weiner tells The Hollywood Reporter that his favorite Season 6 scene was Don's Hershey pitch because "it's as close to a breakdown as we see him have. We're kind of relieved to see him coming clean."

• According to The Hollywood Reporter, Million Dollar Arm, a film starring Jon Hamm, will open May 16, 2014.
• Christina Hendricks chats with The Daily Beast about Joan's best Season 6 moments, including when Joan read the riot act to Don in front of the partners.
• Rich Sommer tells Vanity Fair he's "intrigued to see what happens when that guy from Mad Men is no longer on Mad Men."
• Speaking with Deadline, Linda Cardellini discusses why Sylvia is different from Don's other mistresses, while Robert Morse talks about why he thought Matthew Weiner was an intern.
• The Daily Beast also interviews Linda Cardellini, who calls the scene where Sally walked in on Don and Sylvia "very intimate, and then it's shocking, and then she has this volatile reaction about it that's a mix of horror, grief, and anger at herself."
• The Hollywood Reporter interviews Linda Cardellini, Harry Hamlin and Robert Morse about the experience of guest-starring on Mad Men.
• Kevin Rahm talks to Variety about all the secrets he had to keep before the Season 6 finale aired.
• Brother-and-sister writing duo, Breaking Bad's George Mastras and Mad Men's Maria Jacquemetton, talk to The Hollywood Reporter about their respective AMC shows competing for the best drama Emmy.
• Matthew Weiner and other top showrunners explain to Co.CREATE why Breaking Bad is so good. Weiner says, "What Vince can do with a small space and a limited environment to create tension is very impressive."
• Deadline reports that Christina Hendricks has joined the cast of Dark Places, a film adaptation of Gillian Flynn's novel.
• Studio System News interviews Elisabeth Moss, who says she likes projects "that show a lightness and a darkness, and that's very Mad Men. I think Mad Men is hilarious."
• Fast Company talked to Matthew Weiner about the challenges of getting both Mad Men and his first feature film made.
• Studio System News observes that the best drama actress Emmy nominees portray women who have evolved career-wise, including Elisabeth Moss, whose Peggy "has come to represent both the potential and the struggles of working women everywhere."
• Variety reports that Mad Men was named outstanding drama series at the Made in Hollywood awards last week.
• Cinema Blend has a Funny or Die video featuring Marten Holden Weiner, Breaking Bad's RJ Mitte and Alessandra Ambrosio in a Weird Science parody.
• TV.com asks which Mad Men couple is the fairest — or whatever criteria you want to use — of them all?
• Uproxx showcases a mash-up of Mad Men images superimposed with quotes from NBC's 30 Rock.
• Deadline reports that Kiernan Shipka has been cast in Lifetime's adaptation of Flowers in the Attic.
• To stay up-to-date with all the latest Mad Men news, sign up for the weekly Mad Men Memo.
Read More