Press
LA Times Touts Jon Hamm for Emmy; Christina Hendricks, Elisabeth Moss Consider Dream Roles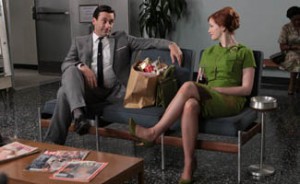 This week, the Los Angeles Times and Boston Globe support Jon Hamm's Emmy bid, while The Hollywood Reporter interviews Emmy nominees Christina Hendricks and Elisabeth Moss. Plus, Linda Cardellini speaks with the L.A. Times about playing Sylvia. Read on for more:
• "You can't watch 'In Care Of' and not come away floored by the power of [Jon] Hamm's work. Give him the Emmy already," the Los Angeles Times says.
• The Boston Globe declares that Jon Hamm had "better get an Emmy for Mad Men this year or the Hellmouth will open up and devour the voters."
• Christina Hendricks tells The Hollywood Reporter that her dream guest star role would be on either Showtime's Homeland ("I love the suspense of it") or HBO's Game of Thrones ("I want to wear pelts and horns and ride around on horseback"). Meanwhile, Elisabeth Moss's choice is PBS' Downton Abbey ("I feel like I would probably be downstairs, not upstairs").

• Linda Cardellini tells the Los Angeles Times that, when she signed on to play Sylvia, she only knew that "she was Italian American and married to a doctor."
• TheWrap reports that Christina Hendricks will lend her voice to Disney's The Pirate Fairy, a Tinker Bell movie due next year.
• Entertainment Weekly picks its five favorite John Slattery moments, from Mad Men to Desperate Housewives, in honor of the actor's birthday.
• Christina Hendricks talks to Access Hollywood about her Emmy nod and how Joan is "smart enough to know that she's gotta take things into her own hands and make things happen for herself."
• Overthinking It argues that Mad Men (and Breaking Bad) are "about the same thing: the failure of the American Dream to satisfy."
• TVLine reports that Talia Balsam will play a political reporter in a Season 5 episode of CBS' The Good Wife.
• To stay up-to-date with all the latest Mad Men news, sign up for the weekly Mad Men Memo.
Read More