Press
John Slattery Talks Directing With Indiewire; Elisabeth Moss Joins Indie Drama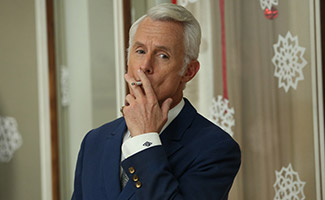 This week, Indiewire interviews John Slattery about the movie he's directing, while TheWrap reports that Elisabeth Moss has been cast in a new film. Plus, the St. Louis Post-Dispatch pronounces Jon Hamm the best actor in prime time. Read on for more:
• Indiewire speaks with John Slattery about his directorial debut, God's Pocket, and about tapping Christina Hendricks for a role in the film ("She's just very talented and very right for the part as well").
• TheWrap reports that Elisabeth Moss is joining the cast of Listen Up Philip, an independent drama co-starring Jason Schwartzman.
• The St. Louis Post-Dispatch anoints Jon Hamm as the Best St. Louisan on a Scripted TV Series, adding, "he's arguably the best actor in prime time, especially in the most recent season of Mad Men."
• Emmy-nominated for his role as Jim Cutler, Harry Hamlin tells Backstage that, in joining the cast, his goal was "to really be as under the radar as possible and not bump into the furniture."

• James Wolk talks to BuzzSugar about the mystery that is Bob Benson.
• Backstage learns from the drama's casting directors, Laura Schiff and Carrie Audino, that there are "some parts where we know in advance, even before anything is written, that it will be a major part."
• The Oregonian ranks Mad Men's opening title sequence (which "echoes the existential dilemma of its complicated hero") at No. 3.
• A New York Post article on celebrity voices in TV commercials cites Jon Hamm's work for Mercedes-Benz and American Airlines.
• To stay up-to-date with all the latest Mad Men news, sign up for the weekly Mad Men Memo.
Read More