Uncategorized
Q&A – Linda Cardellini (Sylvia Rosen)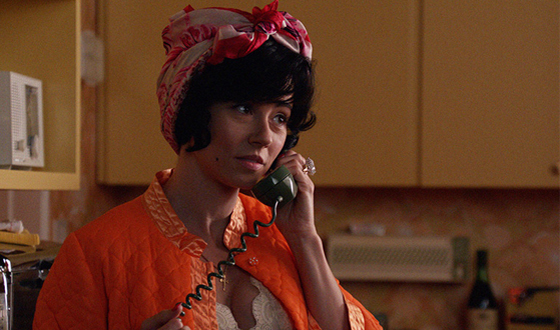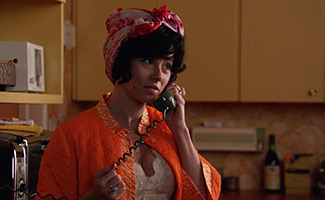 In this interview, Linda Cardellini (Sylvia Rosen on AMC's Mad Men) talks about dressing up in period costume and opens up about Don's infidelity.
Q: Congratulations on your recent Emmy nomination! What did you know about this role when you first auditioned?
A: Thank you! I'm so excited, it's unbelievable. I knew very, very little. I knew she was an Italian-American woman who was married to a doctor and that's about all I knew. It was a gamble that definitely paid off as a wonderful role.
Q: Do you see any similarities between Sylvia and Don's other love interests? What was it like portraying "the other woman"?
A: I think there are definitely similarities in it being an infidelity. The infidelity on both their parts and how she deals with it and her being conflicted with her guilt coming into his consciousness is an interesting thing between the two of them. Her religion playing into it and her duality with her beliefs — on one hand, she continues to assert that she's a faithful Catholic, and on the other hand, she's doing everything she's not supposed to do. I think it's interesting for Don to watch someone struggle with that, their conscience. I think [Sylvia] comes in a long line of other women. Don's cheating reveals something about him each time. The characters that he surrounds himself with and interacts with are interesting pieces to discovering the puzzle of who he is, and him finding that out and him coming out with all these truths for the first time.
Q: It was a very emotional moment in Episode 11, "Favors," when Sally catches Don in bed with Sylvia. What was that like to film?
A: When I read it, I thought, "Oh no!" but at the same time, as a role to play, it just makes it that much more juicy — and it's about time that Don gets caught. [laughs] It could have been worse for her if her son walked in on them. Filming that scene — what you see as the audience and what Sally sees as the character is different than what Kiernan Shipka sees as the actress. Through the magic of television, it's filmed in such a manner where Kiernan didn't have to actually watch that. She did such a fantastic job that we believe that's exactly what she saw, but luckily, it was a little more G-rated.
VIDEO: Inside Episode 11: Favors
Q: Don pleads with Sylvia when she tries to break it off with him. What do you think is different about this affair for him?
A: I think there's a lot of it that he cannot control. Even if she goes along with his domineering ways, she still holds a piece of herself and is still wrapped up in her marriage. He can't completely have her. She still is very much tied to her life and her husband regardless of how badly she's behaving. I think he believes, like most of his other mistresses, that she's going to be wrapped up in Don and in love with him. She has her own independence and he was not able to predict what she was going to do.
Q: You mentioned that costume designer Janie Bryant really has a feel for each character. What was it like dressing up in period costume?
A: I love it! When you're a little girl and you dream of being an actress, those are the things you dream of — being able to put on a costume from a different time and turn into a glamorous lady who has long fingernails, a short black wig, jewelry and a mole. The clothes are just gorgeous. They really are from a different time and of a different era and they put you into that time and era. Janie does such an incredible job. Sylvia's style was a little more old-fashioned than someone like Megan's style. I think Sylvia has a taste for the nice things and that was reflected in her wardrobe as well. The people who work with [Janie] are so generous and kind because a lot of times you need help getting in and out of the costumes. There are a lot of snaps and buttons and undergarments that you actually have to learn how to wear and put on because nowadays things are much easier.
Q: Many actors talk about keeping Mad Men so under wraps. How did you manage to keep your role a secret from your family and friends?
A: You just can't tell anybody! I think that really is the key. When you have a secret, you're tempted to tell people who you think won't tell, but the key to really keeping a secret is not even telling that person. I think Sylvia taught me a lesson in that. My other half did not want to know anything about it because he's a fan of the show. It paid off because I got to watch his face when all of the things happened on the show. The longer you keep the secret, the more fun it becomes to keep the secret.
Q: Have you worked with any of the Mad Men cast before?
A: John Slattery and I had just done a movie together called Return. He and I actually have a love scene in that film and he directed the episode where Jon Hamm and I are in the hotel room. It was fun working with him as an actor and a director. Vincent Kartheiser and I were also in a movie a long time ago with Andy Garcia, called The Unsaid.
Q: What was most rewarding about this role for you?
A: I would have to say the writing. It's very interesting and challenging and beautiful. To know that what you're doing plays a larger role in something you're not even aware of when you get the role, and how your character plays into the puzzle that is Don Draper's life. I'm a fan of the show and wanted the ending of the [season] to be a secret. All along, I had no idea how the show would actually end for Don and it was really worth waiting. Having a character that brings Don Draper to a place where he actually starts to become honest was rewarding.
Click here to read an interview with Jon Hamm, who plays Don Draper on AMC's Mad Men.
Read More