Uncategorized
Q&A – Janie Bryant (Costume Designer), Part I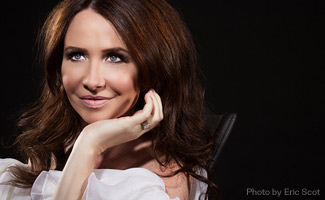 In Part I of this interview, fashion blogger Faran Krentcil interviews Mad Men costume designer Janie Bryant about Peggy's fashion progression and the challenges of outfitting Bob Benson.
Q: There have been hundreds of tweets about Peggy's sexy date dress from the Season 6 Finale. Can you tell us about it?
A: Peggy has an amazing costume arc for that whole episode. I felt so strongly about getting just the right dress because the script was so amazing for her character. I wanted her costumes to build along with her storyline. So when we first see Peggy, she's in the gray three-piece suit — it's a gray-and-yellow windowpane design. That scene was so sad for Peggy; she feels such disappointment and so let down when she sees Ted with Nan and the kids. So I wanted to start her out in something that evokes disappointment and sadness. But then she comes back so strong in that date dress. It's a very sexy low-cut, V-neck, saucy little mini-dress… It was a very important moment for Peggy because I could show her as we'd never seen her before… Of course, in my imagination she's going to go out and buy a new number for this very moment in the office. So it was an opportunity for Peggy to buy something really modern; totally of the moment. She bought that dress the day before she wore it.
Q: What about Peggy's now-famous pantsuit?
A: When I read the script, I kept seeing her in pants in that scene. I went to Matthew [Weiner] and talked to him about letting her wear pants to work for the first time. It's a very important moment for Peggy, being in Don's office. She's there over the holiday weekend, so it's not like everyone's there working. So she could "sneak it in," so to speak. But more importantly, I felt like, "Okay, you've come a long way baby." And the pantsuit was to celebrate and acknowledge her whole amazing arc of the whole season. Time has passed, and Peggy has grown into this incredible businesswoman. And also the colors were important, too. The pantsuit was this dark intense orange, black, and white houndstooth and I loved how it really spoke to the whole entire meaning of Mad Men and the symbolic way it references the black, white, and red colors in the show's theme… It spoke to the strength of the show, and the strength of those colors, and that moment for Peggy and all of what she's been through.
Q: Let's talk about Harry Crane…
A: Ha! I love Harry Crane. My process for Harry this season was finding images of Hollywood husbands and Slim Aarons photographs in Palm Springs. I looked for a lot of images of Hollywood producers… I mean, Harry has always been that character who's a wannabe. And I love the idea that Matthew really wrote for him the part of being this… Well, let's just say it: this Hollywood douche bag. If anyone would become a cliché, it would be Harry. But I love his character — I don't mean that in a negative way — I just love how hard he tries.
Q: How much of the Mad Men wardrobe is vintage, and how much do you actually design and sew from scratch?
A: It always depends on the script, what characters we have, what we need… For each episode, it changes, but 90% of Joan's costumes are pieces that I design and build. Most of the suits Don Draper wears I design, too. But most of the costumes for the entire cast — and I mean, principals, guest stars, day players, extras — the majority of the wardrobe comes from rental houses because we have such a huge amount of people to costume.
VIDEO: Janie Bryant on Costumes in 'In Care Of'
Q: What are the hardest pieces to find? I remember when you did Sally and Bobby's first pool scene it was difficult to find kids' swimsuits.
A: That was one of the most challenging scenes ever. We actually needed four identical swimsuits for each child, because the scene had them in and out of a pool. So we made four bathing suits for Sally and four for Bobby, because they had to be wet and then dry, and then wet and then dry… For Bobby, I found a little Speedo and added a new patch on top of the logo — like a little period decal. But this season in Hawaii, I used vintage swimwear. For instance, Megan's purple bikini was a 1968 bikini. She wasn't going in the ocean, so we didn't need multiples. And in that case, the vintage pieces are really easy to find.
Q: We got a lot of questions about Bob Benson's fishy swim trunks.
A: Bob Benson's swim trunks are vintage. They're from one of the costume houses here and that cute fish print was fantastic. I think they could make them now, and guys would buy them. I receive many Twitter messages requesting Bob Benson's shorts!
Q: Was it difficult to dress Bob?
A: The thing with Bob is, I was playing with a very odd color scheme for him. That, for me, was just about the mystery of, "Okay who is this guy?" I wanted to play with Bob's colors being a little "off," a little different — and I think that spoke to his character and the mysterious nature of him. Let's be honest, he's a chameleon, so those weird tones of greens and blues and weird acid oranges really spoke to me. And the fish print — those little fish had all the weird Bob Benson colors in them. It was perfect.
Q: And the turkey apron?
A: I designed and I had that apron made out of vintage fabric.
Q: Do you have muses for each character, or real-life inspirations for them?
A: We're finding real photos of what NYC offices, and offices around the country, looked like. We scour vintage magazines and newspapers for photographs of businessmen, secretaries, kids… We're finding "real people" photos from the period, and studying those photographs.
Q: Did you visit Miss Porter's School before getting Sally and her hazers dressed for that episode?
A: We had a contact at Miss Porter's, and one of the things I learned that was so interesting is that the older girls' right of passage was yellow blouses and gray skirts. The freshmen were not allowed to wear the colors yellow and gray. That was reserved for older students, and that's why the two older girls wore those pieces.
Q: What about Glen's army jacket?
A: Nobody's asked me about that jacket. I love that piece and found it on eBay. That's an actual jacket from the Vietnam War, and it was a protestor's jacket, and it came to us with all the original buttons. They are exactly as they were. I mean, literally, it was one of these weird things that we were looking for — and maybe I'd even typed in "Protestor's Vietnam Military Jacket" into the search box. Glen's jacket came up and I said, "That's it. We're getting it." It wasn't even that expensive, and I didn't even change a button on it, because they were incredible. And you know what's so crazy? All the buttons are still relevant, politically and socially. Still. Which is so messed up, that we're in another war, now, still, today. The meaning behind that jacket was so much bigger.
Come back tomorrow for Part II of this interview with Mad Men's Janie Bryant.
Click here to read earlier blog posts from Faran Krentcil's Mad Men Fashion File.
Read More