Press
Mad Men Honored With 12 Emmy Nods; Jon Hamm "Mad Funny" as ESPYs Host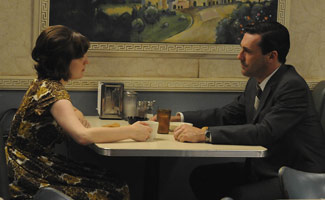 This week, Mad Men nabs 12 Emmy Award nominations, while Jon Hamm leaves Don Draper behind to host the ESPY Awards. Plus, Elisabeth Moss discusses Peggy and Mad Men with The Globe and Mail and the Toronto Star. Read on for more:
• The Associated Press, the Los Angeles Times, TVLine and USA Today report that Mad Men reaped 12 Emmy nominations — including best drama, best actor (Jon Hamm), best actress (Elisabeth Moss) and best supporting actress (Christina Hendricks). (Moss also got a nod for best actress in the miniseries Top of the Lake.) Also, New York proclaims, "Elisabeth Moss has got to win a goddamn Emmy already," while the Toronto Sun thinks Moss is "a brilliant actress and fully deserving of the attention."
• Entertainment Weekly calls Jon Hamm's turn as the ESPYs host "mad funny." Philly.com has a list of Hamm's "killer jokes" and video of his opening monologue. USA Today wonders if hosting the Oscars is next for Hamm.
• Ahead of the ESPYs, Variety reports on Jon Hamm's comments about hosting the awards and watching a St. Louis Cardinals baseball game with Jay R. Ferguson. The Associated Press, CBS News, E! Online, Metro, Newsday and POPSUGAR also joined the conversation.
• Speaking to The Globe and Mail, Elisabeth Moss talks about Mad Men ending: "We keep saying, 'Can't we just do another show with all the same people?'" Moss makes predictions about Peggy to the Toronto Star: "I know nothing will come easy for her."
• Elisabeth Moss tells The Daily Mail how Mad Men has helped her career: "The biggest difference now is that I'm no longer the person who won't necessarily get the role."
• Deadline reports that Janie Bryant will develop a reality show competition where contestants have to create clothes in the style of a classic Hollywood film, or a celebrity's signature style.
• Janie Bryant describes the new series to Entertainment Weekly as "a show that combines my passions of film, costume design, and fashion design." Also, Bryant tells Women's Wear Daily that she designs most of the suits for Don, as well as dresses for Joan and Peggy — and chats with Fashionista.
• Bill Simmons interviews Jon Hamm for Grantland, and the duo talks sports, the ESPYs, Mad Men and starting out as an actor.
• Entertainment Weekly debuts two posters for HBO's Clear History, with both prominently featuring Jon Hamm — in a close-up and as Time's Man of the Year.
• Michigan's MLive reports that Rich Sommer will be the voice of General Motors Co.'s OnStar division.
• Vincent Kartheiser's Pride and Prejudice co-star tells Minneapolis' CBS affiliate that the Mad Men actor is "incredibly talented and he really cares very deeply about doing good, honest work."
• Meanwhile, Vita.mn has photos of Vincent Kartheiser "in muttonchopsand period costume" as Pride and Prejudice's Mr. Darcy. The Huffington Post shares some more pictures of Kartheiser.
• The Moderate Voice applauds Robert Morse as "an incredible stage musical performer, with an expressive face, a likeable hyperactivity, someone who deliver[s] a line and song with pizzazz and pull[s] off a show-stopper with ease."
• The Pittsburgh Tribune-Review interviews Kit Williamson (Ed), who describes his character's interactions with Peggy.
• To stay up-to-date with all the latest Mad Men news, sign up for the weekly Mad Men Memo.
Read More