Press
Elisabeth Moss Visits NPR's Fresh Air; LA Times Talks With Vincent Kartheiser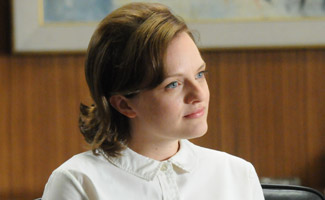 This week, NPR broadcasts an extensive conversation with Elisabeth Moss, while the Los Angeles Times speaks with Vincent Kartheiser about Pete, Mr. Darcy and animation. Plus, Entertainment Weekly spotlights a trailer of January Jones in her new movie. Read on for more:
• Elisabeth Moss tells NPR's Fresh Air that Season 4's "The Suitcase" was "such a beautiful representation of [Peggy and Don's] relationship and their bond — which is not romantic, is not sexual, is an honest-to-goodness friendship."
• Vincent Kartheiser discusses Pete, Mr. Darcy (the role he's playing on stage this summer) and his animated turns on FOX's Axe Cop and High School U.S.A. with the Los Angeles Times.
• Entertainment Weekly showcases the trailer for Sweetwater, starring January Jones "performing ruthless acts of justice throughout" the film.
• Describing his performance as "superlative," TV Equals picks Vincent Kartheiser for one of the best supporting actor Emmy nominee slots — and also calls John Slattery worthy of consideration.
• Conan O'Brien spoofs promos for Mad Men and HBO's Game of Thrones.
• The Boston Globe compares Don's revelations about his past in the Season 6 finale to gays coming out of the closet and asks, "Will he go back into the closet next season? That was the season's cliffhanger."
• AfterEllen applauds Mad Men for portraying queer characters that "reflect a linear evolution which mirrors changing societal mores," from the closeted Sal to the "more confidently aggressive Bob Benson."
• Mashable reimagines Peggy as the Marquis de Lafayette, because both rose to "achieve success in the face of adversity."
• To stay up-to-date with all the latest Mad Men news, sign up for the weekly Mad Men Memo.
Read More