Press
Elisabeth Moss Talks Double Emmy Nods With NY Times; WSJ Chats With Christina Hendricks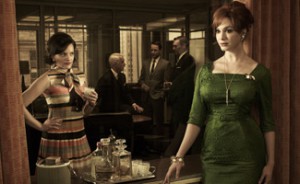 This week, The New York Times discusses the Emmys with Elisabeth Moss, while Christina Hendricks dishes on her Emmy nod and Mad Men's end with The Wall Street Journal. Plus, Vincent Kartheiser has a conversation with The New York Times about his stage work this summer. Read on for more:
• Speaking with The New York Times, Elisabeth Moss compares her two Emmy-nominated roles, Peggy and Top of the Lake's Robin: "I felt like Robin was Peggy 40 years later. She's what Peggy would be if she was an Australian detective." Moss also talks to the Los Angeles Times, Entertainment Weekly and Backstage.
• Christina Hendricks, fresh off the news of her best supporting actress Emmy nomination, tells The Wall Street Journal that thinking about Mad Men's ending is "just kind of heartbreaking." Explaining Joan's appeal, Hendricks tells the Los Angeles Times, "She's a survivor, and she's strong and competent and smart."
• Vincent Kartheiser speaks with The New York Times about his stint on stage this summer as Mr. Darcy in Pride and Prejudice.
• Commenting "great combo," The Hollywood Reporter is pleasantly surprised that Elisabeth Moss got two Emmy nominations.
• The Week notes that Elisabeth Moss "became the rare actress to be nominated in two categories," for Mad Men and Top of the Lake.
• Entertainment Weekly interviews Linda Cardellini about nabbing a best guest actor Emmy nod for her "undeniably juicy" role as Don's Season 6 mistress.
• In speaking about Jon Hamm's latest best actor Emmy nomination, the St. Louis Post-Dispatch asks, "Can he just win this year? He did amazing work."
• The Hollywood Reporter reports that Jon Hamm and Daniel Radcliffe will reprise their roles in A Young Doctor's Notebook & Other Stories in a second season.
• TheWrap announces that Matthew Weiner's feature film directorial debut, You Are Here, will have its world premiere at September's Toronto International Film Festival.
• To stay up-to-date with all the latest Mad Men news, sign up for the weekly Mad Men Memo.
Read More