Press
Don's Confession Tops TV Guide List; Elisabeth Moss Speaks with EW, Telegraph, Guardian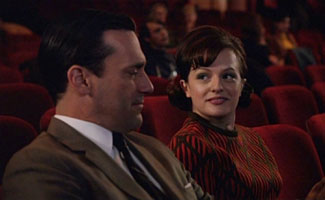 This week, TV Guide is devastated by Don's season finale "confession," while Entertainment Weekly, The Telegraph and The Guardian talk to Elisabeth Moss about her career to date. Plus, Jon Hamm appears in the trailer for HBO's Clear History. Read on for more Mad Men news:
• TV Guide's top moment of the week was Don's confession — delivered to Hershey's executives and his fellow partners "in a devastatingly raw monologue" — about the reality of his childhood.
• "Increasingly there's the sense that Elisabeth Moss can do anything," Entertainment Weekly says in its interview with the actress about her role in Top of the Lake. Moss also speaks with The Telegraph and The Guardian in extensive interviews.
• Entertainment Tonight has the full trailer for HBO's Clear History, starring Larry David and Jon Hamm, who plays "the most perfect person on the planet… who is handsome, intelligent, successful, a great person."
• January Jones, Kiernan Shipka, Jessica Paré and Elisabeth Moss share with TV Guide their "all-time top scenes with Don."
• Chatting with New York, Rich Sommer describes California Harry as "a real different animal."
• HitFix says Mad Men — which "remains among the deepest, most beautifully-crafted, absorbing dramas in TV history" — is guaranteed a best drama Emmy nod.
• Deadline includes Linda Cardellini in its round-up of leading Emmy contenders for drama guest roles, observing that her "coy performance added depth and intrigue to the role of the 'other woman.'"
• Speaking with Vita.mn, Vincent Kartheiser compares Pete and Mr. Darcy (a role he's playing on stage this summer), saying, "Both have very upper-class upbringings. There's a certain formality and stiffness that I believe will be carried over."
• U.S. News and World Report recaps Season 6, describing it as "a morality play about choice — a journey through Madison Avenue's Inferno."
• IGN calls Season 6 "another great season of television."
• USA Today proposes turning Mad Men into Sally's story to "see the show through another generation."
• Entertainment Weekly speculates which year Mad Men's final season will take place.
• The New York Daily News imagines a happy ending for Mad Men.
• Speaking with Backstage, Matthew Weiner compliments Mad Men's actors, saying, "The degree of difficulty in these scenes, the corners they are turning, from angry to sad to kind to funny to wry — and they will do this in a series of three lines sometimes."
• Indiewire features Bridesmaids's Paul Feig discussing his directing effort in Mad Men's Season 1 and how Jon Hamm is one of his "favorite people in the world."
• Looking ahead to life after Mad Men, The Huffington Post envisions a spinoff centered on Peggy and Megan.
• Go to BuzzSugar for a video of Mad Men scenes set to The O.C. theme song, "the glorious meeting of two popular — and fairly opposite — TV shows."
• To stay up-to-date with all the latest Mad Men news, sign up for the weekly Mad Men Memo.
Read More