Uncategorized
The Mad Men Fashion File – The Circle Game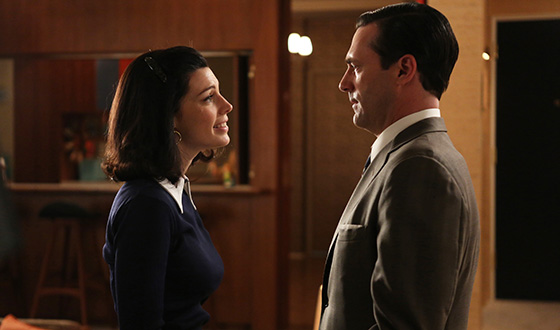 This season tracked Don as he repeated — then started to shatter — his usual cycle of lies. "I want to stop doing this," Don resolved at the end of "The Doorway." By the time he brings his kids to the abandoned rooming house where he spent his own adolescence, there's a sense that maybe Don's pattern of deception will finally end.
For much of this season, costume designer Janie Bryant has highlighted the theme of history repeating itself via the characters' clothes. For the season finale, she pulls out all the stops, and it's really fun to track.
One of my favorite moments of deja vu came from Young Dick Whitman, who sports a blue Fair Isle sweater and knee-high socks while miserably shuffling onto his Pennsylvania porch. Later in the episode, and well in the future, his daughter Sally answers her dorm room pay phone… in a blue Fair Isle sweater and knee-high socks. It's not a coincidence Sally's suspended from school for the exact same reason Don gets "suspended" from SC&P: Her fake identity is revealed, she gets drunk in front of authority figures, and she throws away a really good opportunity. Betty says "the good is not beating the bad." If she means her "perfect" influence isn't overpowering Don's destructive influence, she's right — all you have to do is look at their corresponding teen knitwear.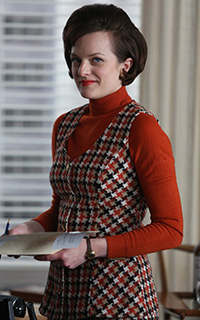 Another "seeing double" moment came from Peggy, and I'm not talking about the camera angle that shot straight down her dress! Look at the blue and red suit she wears when Ted essentially dumps her: It's the exact same costume she wore when he hired her over lunch last season. Their relationship has literally come full circle, from rival strangers to colleagues to co-conspirators to lovers…and now back to bitter strangers. Peggy repeats this color pattern, but definitely not its melancholy overtones, while sitting in Don's office. And yes, now Peggy is wearing the pants in her working relationships — or at least, the pant-suits. As for the babydoll dress she paraded through the office, wow. Yes, Nan's hem was quite short when she visited SC&P but Peggy's revealing party dress looked an awful lot like Nancy Sinatra's concert costumes. Sadly, her boots didn't get to walk all over Ted.
Meanwhile, when Joan answers the door for Roger — in an emerald green dress — she's having her own wardrobe encore. Joan wore an emerald necklace while sleeping her way to the top, she wore a green bathrobe the next morning when Don told her (too late) not to do it, she wore a green dress at her first-ever partner's meeting… and now she's in green as she finally lets Roger into her home life. (Or at least, as she says, into Baby Kevin's.)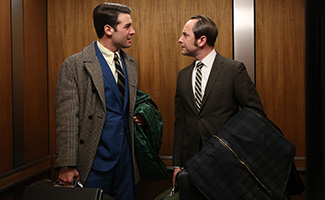 Two more doubles to note: Stan in his fringe leather jacket — virtually the exact same one worn by Miss Porter's rebel debutante Mandy! And Pete Campbell with Bob Benson, carrying "evil twin" garment bags while bickering in the elevator. Pete's is blue plaid with green check. Bob's is green plaid with blue check. In the war for Chevy, only one can come out on top — and it's probably going to be the guy who can drive a stick shift.
Megan doesn't repeat any costumes in this episode, but she does have two that bookend each other: Her white lace nightgown and her navy blouse with the pointy collar. In the first scene, Don's promising her a new start in California. They stand in front of a door filled with light, they embrace, he's in a suit… it looks like a wedding. Fast forward to the scene where Don backs out of the plan. They're in the same place, kissing again, but it's dark outside, she's in a dark blue top… and after she calls Don's kids "screwed up" it could be their relationship's funeral. You know who wears her own funeral suit in this episode? Joan, when Don's put on leave from SC&P, and she refuses to look at him. She's in a black suit with a white ruffled collar, tying her both to Megan and to the women in mourning at Roger's mother's funeral. Sigh.
One more thing about Megan and that blue top: While wearing it, she says she's "in the same boat" as Don's kids. The water imagery (sinking, specifically) comes up a lot this episode, and not just because Pete's mother is literally lost at sea. Ted tells Peggy he needs his family to buoy him; he needs to "hold onto them or get lost." He also says he loves Peggy deeply, as if following her will pull him under. (Recall her deep blue costume in that scene.) And Roger's wearing the same Admiral's blazer in this episode that he sports in California, when Don almost drowns in the pool. A lot of people have already tied Lou Avery's line, "Going down?" to Hell (or the Inferno), but I think it's actually about Don sinking. He's drowned his troubles in alcohol and now he's just drowning.
Finally, can we pause for a moment to reflect on Clara? Pete's secretary earns MVP status this season for her consistently modern, and sometimes flat-out mod, outfits. She's inspired me to raid eBay for every Mary Quant piece still on the market — but her of-the-second Vidal Sassoon bob might have to stay between her and Peggy Moffitt.
Read More