Uncategorized
The Mad Men Fashion File – Just Kids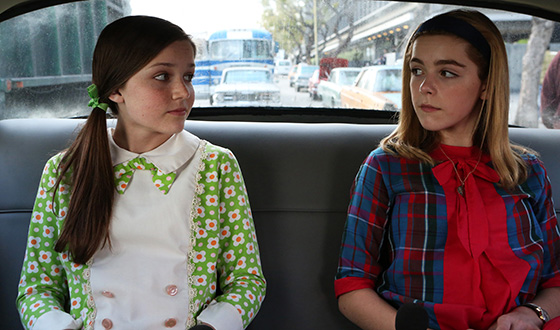 There's an old joke that people eventually start to look like their pets. In the Mad Men world, nobody resembles their cat, but costume designer Janie Bryant makes sure that key characters coordinate with their office (or in Betty's case, her kitchen). Peggy's a prime example: Once she got promoted to copywriter, she wore dresses that blended into the chairs. And all this season, we've noted that Ted's "groovy" brown suits line up perfectly with Sterling Cooper & Partners' wood-paneled walls.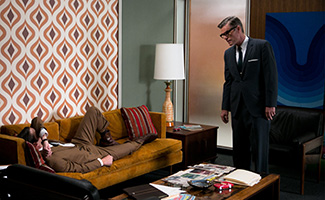 Now we see Ted hiding out with Jim in the SC&P version of the Bat Cave: Ted's office. Ted's mustard and chestnut hues blend straight into the dizzy wallpaper; Jim's blue suit sinks precisely into the graphic blue print hanging behind him. This is their space, for their opinions, and it couldn't get any clearer if Ted hung a sign proclaiming "NO DRAPERS ALLOWED" on the door.
Unfortunately, nobody posted a "NO SALLYS ALLOWED" sign on the 16th floor of her apartment building, but Sally should have known she didn't belong in the Rosen house anyway: Their walls are muted brown and orange, and her costume is bright red and blue. (Maybe she chose it to match Mitchell's red shirt!) Aside from making us squirm and scream "Don't go in there, Sally!" at the TV, this episode did a fantastic job of delineating children from adults.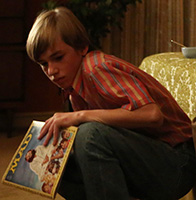 It's easy to think of Megan, Peggy, Stan, and Ginsberg as "the kids." They party, they listen to rock 'n' roll, they hate LBJ, and they sport the youthquaking sideburns and miniskirts that their "elders" wouldn't dream of wearing. But there were real children in this week's episode —  Ted's two sons, Sally, Julie — and their costumes behaved accordingly. The Chaough boys wore Converse sneakers and jeans; the girls sported schoolgirl jumpers with Peter Pan collars, Mary Janes, and knee socks. Later, the girls changed into loose-fitting floral pajamas. Next to Julie's green hair bow and pink-and-lime flowered shift, Megan looked positively matronly in her off-white linen suit. (No wonder she was mortified when Julie called her "Mrs. Draper!")
And that's the costuming genius behind Sally's moment of truth: When she walks in on Don and Sylvia, Sally's in a primary colored plaid dress with knee socks, bows, and a headband.  This is the most childlike she's looked all season — no go-go boots in sight.  And, of course, it's when she's confronted with the biggest piece of adult information she's ever received.  Sally can't handle this revelation.  The horror she feels is written all over her face — and all over her costume. She's just a kid.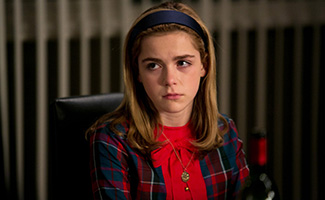 One more thing about this whole knot of adultery: Arnold and Megan both wear black and maroon in their first scene together. They're still linked by their spouses' dark deeds, even if they don't know it.
Our old friend Blue-and-Green shows up in this episode, too. Peggy wears it during her bittersweet moment at dinner with Pete; Sally wears it while trying to convince her mother that Model UN is a great idea; Julie wears it while writing the cursed note about Mitchell; and if you zoom in on Bob Benson's knee as it touches Pete's… Yep. His poly-wool blended trousers are indeed threaded with B&G. To those who think our favorite color combo represents cultural rule-breaking: You've got even more evidence now.
Read More