Uncategorized
The Mad Men Fashion File – Evil Twins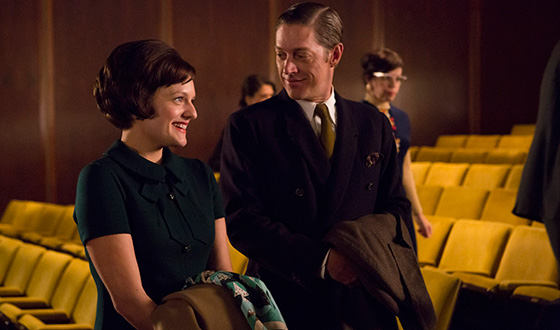 Don't adjust your television set: There's nothing wrong with Peggy's orange checked bow or Bob's striped green tie. But if you think you've seen those costumes before — just in different colors — you're absolutely right.
Each of these outfits has an evil twin that costume designer Janie Bryant ties back into the character's story arc. Peggy's original checked pussy bow was purple, and she wore it first while flirting with Ted (while on the phone with Stan!) in Episode 4, "The Collaborators." It appears again in Episode 9, "For Immediate Release," as Peggy learns Don and Ted have forged a shaky (and career-changing) alliance. Both episodes were before Ted and Peggy's pivotal kiss this season — and before Don had wrecked their relationship. After compromising the love of his real daughter, Don acts out on his "work daughter" — and boom, Peggy goes (literally) hot under the collar. Her neckline changes from purple to orange.
Peggy's second costume inversion comes from her blue suit with green trim. Remember when she wore a green suit with blue trim last week while navigating Mrs. Campbell's dementia and Pete's dinner table teasing? It's all fun and games until it's true, and then the mood (and the suit) darkens. (One more note on Peggy's blue costume: It's the same one she sports in the Season 6 Premiere when she deftly saves the day with her "Lend Me Your Ears" campaign — but only after almost losing her temper with the clients.)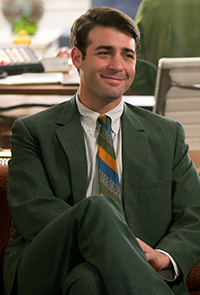 Bob's saved the day a few times, too: First with Joan in the hospital, and later with Ginsberg's near-meltdown. While helping Ginsberg, Bob wore a brown and blue tie with a bright stripe of red. Its evil twin showed up in this week's episode — a brown and blue tie with a bright stripe of green — when Bob's revealed as a sort of evil twin himself. Bob Benson's a warped mirror of the original pretender (and alliterated office man) Don Draper. (Oh, and the blue dress Joan wore when Bob took her to the hospital? It's the same one she wears in this episode.)
Bob also sports a deep green suit this episode — and it's in the scene where Cooper references "Crocodile tears." Cooper's talking about Pete, who can indeed be reptilian, but I like the sly allusion to Bob's epic fake-outs. It's also cool to realize that Pete calls Bob an "animal" while Peggy hurls "you're a monster!" at Don. The two corporate (and desperately sad) con men are subtly linked by their insults.
As for Sally at Miss Porter's, well, that was just fun. Sally's proper checked dress fits nicely with Mandy and Millicent's schoolgirl clothes… until they hem their skirts, unbutton their blouses, and get high. When that happens, Rolo is an odd man out: He's dressed like Paul Simon in his black turtleneck and shaggy side-part (and flip flops!) while every other kid in the room sports (and subverts) preppy plaid. There's some serious outerwear happening, too: Much like his blue-and-orange peacoat from last season, Glen's army jacket is perfectly period, but still worn by kids around the world today. Mandy's fantastic fringe jacket recalls Jimi Hendrix and Cher, and it looks both fantastic and a little funny with her lace floral collar. Much like Mitchell Rosen, Mandy's a little too posh to really be rock n' roll.
Two more quickies: Megan's Evil Twin haunts Don on television… and also shares the same chic and spooky hair as Mia Farrow in Rosemary's Baby. (And yes, Mia wears a yellow nightgown in the film, just like Megan does in this episode… and yes, this is yet another allusion to Megan's complicated issues with pregnancy… and no, this does not mean Megan is having The Devil's Baby… or does it?)
Finally, check out the mirror images in the first and last scenes: Don in black and white, curled up and asleep in a space that's decidedly not his own bed. Evil Twins come in camera shots, too.
Read More