Press
Matthew Weiner at THR Emmy Roundtable; Jon Hamm a Variety Leading Emmy Contender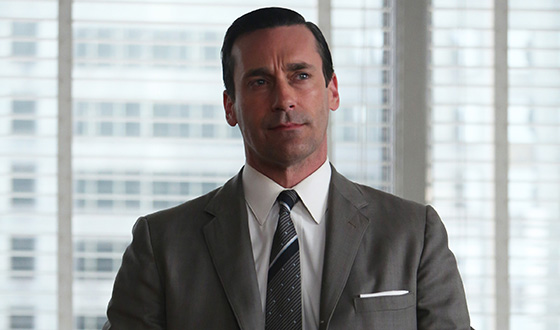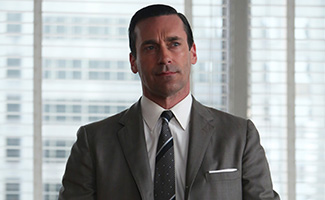 This week, The Hollywood Reporter's Emmy roundtable for drama showrunners features Matthew Weiner, while Variety dubs Jon Hamm one of this year's top contenders for a Best Actor Emmy. Plus, Mad Men is one of the top 10 shows on the Writers Guild's Best Written TV Series of All Time list. Read on for more Mad Men news:
• Matthew Weiner, one of the drama showrunners in The Hollywood Reporter's Emmy roundtable, compares the writing process to "a pie-eating contest where the prize is more pie."
• Variety considers Jon Hamm a leading Emmy contender because his "performance never falls into a rut, keeping alive his hopes for that elusive first Emmy."
• The Writers Guild of America lists Mad Men at No. 7 on its ranking of the 101 Best Written TV Series of All Time because the series "quickly took hold of the imagination with its evocation of Madison Avenue and the country as the turbulent 1960s dawn." The Hollywood Reporter, the Los Angeles Times and Business Insider discuss the list.
• Christina Hendricks, talking to Esquire, applauds Matthew Weiner, who "always writes things that I would never fathom, twists and turns that we are constantly excited about when we read the scripts."
• TV Guide's top TV moment last week was Betty dropping "some post-coital knowledge on him [Don] that he can't handle."
• Kevin Rahm joins The Hollywood Reporter's gathering of top contenders for best supporting actor and actress nominations and says he'd like to "to run around with a crossbow and an ax and smash things" on The Walking Dead.
• GQ interviews Janie Bryant about the fashion choices she made in this week's episode. She notes that the "colors of the period can be so jokey in a way, almost comedic."
• Mad Men tops The Hollywood Reporter's power rankings with "The Better Half," deemed "an episode that brought out all of its best qualities."
• GQ chats with Rich Sommer about the evolution of Harry, who has changed, "in terms of his look and his job–maybe more than anybody on the show except Peggy."
• Harry Hamlin talks to New York about all things Jim Cutler, whom he calls "somewhat narcissistic and a control freak."
• New York floats several Bob Benson theories, wondering what it is about him "that that has us all so suspicious."
• Kevin Rahm talks to Adweek about playing games on the Mad Men set, like cribbage, as well as "Words With Friends" with Jon Hamm, Elisabeth Moss and Lana Horochowski, the show's head of makeup.
• New York interviews Erika Slezak of One Life to Live to find out what life was like for a young soap opera actress in the late '60's and early '70's.
• Salon thinks Matthew Weiner "may well be modeling his show after Melville's novel — a Moby-Dick for the television age. Something deep. Something one can fall into."
• The Houston Chronicle observes that the current season of Mad Men and early episodes of The Wonder Years are both set in 1968, noting that the shows look at the year from "wildly different points of view."
• According to The Hollywood Reporter, Jessica Paré will guest-star on a Canadian comedy called Satisfaction.
• Peyton List is featured in a promo for her new series, the CW's The Tomorrow People (via The Huffington Post).
• This season's "The Crash" — "an hour of television perfection" — wins a spot on Ology's list of the season's best TV episodes, as does Season 5, Episode 12, "Commissions and Fees," which featured Lane's suicide.
• ARTINFO and Gothamist both explain the cultural references in Season 6, Episode 10, "A Tale of Two Cities."
• For recaps and reviews of Season 6, Episode 10, "A Tale of Two Cities," check out Ad Age, The Atlantic, Basket of Kisses, CableFAX, CBS News, Collider.com, Entertainment Weekly, The Hollywood Reporter, Philly.com, Poptimal, Rolling Stone, Slate, Tom & Lorenzo and TVLine.
• To stay up-to-date with all the latest Mad Men news, sign up for the weekly Mad Men Memo.
Read More