Press
Matthew Weiner Discusses Season 6 Finale; AP Touts Jon Hamm's Emmy Chances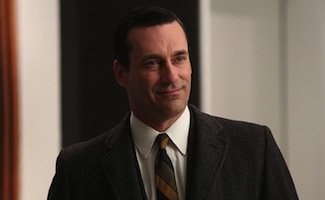 This week, in a series of interviews, Matthew Weiner shares his thoughts on the Season 6 finale, while the Associated Press believes the episode should win Jon Hamm an Emmy at last. Plus, Slate thinks this penultimate season was the best one to date. Read on for more Mad Men news:
• Matthew Weiner deconstructs Season 6 and the finale with Basket of Kisses, The Daily Beast, Entertainment Weekly, HitFix, The Hollywood Reporter, The Huffington Post, the Los Angeles Times, New York, The New York Times, TV Guide and TVLine. He tells EW, "I hope people feel a sense of joy or hope at that last moment because that's what the season was working toward."
• The Associated Press trumpets Jon Hamm's scene in the Hershey meeting "that should clinch Hamm his long-withheld Emmy," while Showbiz 411 thinks Hamm "scored his Emmy nomination and win in that speech." Yahoo believes the scene "could finally make him a shoe-in" for an Emmy.
• Slate thinks Season 6 was Mad Men's best season so far.
• New York interviews Elisabeth Moss, who says of Peggy and Joan's relationship: "We don't interact all the time now, so there's a special kind of magic that happens." Moss also chats about the finale with Vanity Fair and tells TheWrap how "strange" it will be when Mad Men is over.
• Vanity Fair learns from Vincent Kartheiser to "expect the unexpected from Matthew Weiner, so when it comes, you put on your shocked face, but you are always expecting something riveting." Kartheiser is also interviewed by Zap2it.
• With Ted and Pete moving to L.A., Kevin Rahm tells New York he envisions a sitcom where the two "dress up like women to live in the right apartment building. Bosom Buddies." Rahm also chats with The Hollywood Reporter about being immortalized in a GIF for the first time ever.
• The New York Times reports that the Season 6 finale drew 2.7 million viewers, the most for a season finale in the show's history.
• Matthew Weiner talks to TheWrap about ending the series and series endings in general, including the "genius" ending of The Sopranos.
• Entertainment Weekly compiles a likeability index of characters — including Don, Betty, Megan, Peggy, Pete, Ted and Bob — that "make us question who we're rooting for and why."
• USA Today looks back at the Season 6 poster to decipher what it "may have hinted about these past 13 episodes."
• Janie Bryant talks to Entertainment Weekly about Peggy's pantsuit in the season finale, describing it as "such strong expression of empowerment." Bryant also speaks with the Los Angeles Times about the fashion differences between New York and L.A. in the late '60's. Plus, Bryant did a Twitterview for In Style.
• Speaking with New York, Matthew Weiner discusses Mad Men's promos, calling sneak peeks for the next episode a "semaphore of storytelling."
• The Wall Street Journal considers personal finance lessons gleaned from watching Mad Men.
• The Boston Globe's Mount Rushmore of TV actors includes Jon Hamm (and Breaking Bad's Bryan Cranston).
• Linda Cardellini tells The Hollywood Reporter that Gina Lollobrigida — with her "sensuality and that short black hairstyle" — was the inspiration for Sylvia.
• NBC News showcases some of Mad Men's stars in "barely recognizable" non-1960's roles.
• Talking to GoldDerby, Kiernan Shipka thinks Season 6, Episode 11, "Favors" was "quite the turning point" for Sally because "I don't think she'll ever trust her father anymore."
• Now that viewers have very large TV sets, Christopher Manley, the show's cinematographer, tells Deadline that "it's OK to go back to a more old-fashioned scale of using wider shots."
• MLB.com speaks with Jon Hamm about his St. Louis Cardinals and his new film, Million Dollar Arm (about cricket players coming to the U.S. from India to play baseball).
• Rich Sommer talks about his summer on stage with TheaterMania and speaks briefly about the "pretty singular" experience he's had on Mad Men.
• According to The Washington Post, Elisabeth Moss spoke at a PR/marketing conference and "the packed room was rapt for an hour."
• One font expert tells the Los Angeles Times that the new SC&P logo incorporates "super-futuristic modernism and super-nostalgic traditionalism" design elements.
• Ahead of the Season 6 finale, the Austin American-Statesman relives "some of the wildest moments of the past twelve episodes."
• Mad Men's head of research speaks with the Los Angeles Times about her "relentlessly interesting" job.
• For The Globe and Mail, a psychoanalyst explains what's going on with Don, "the most misunderstood man on Madison Avenue."
• PolicyMic argues that Season 6 embodied "a servant class/ruling class dynamic," à la Downton Abbey.
• Buddy TV offers Season 6's most GIF-able moments, crediting Matthew Weiner for seemingly providing "a tiny moment for the Internet age each episode."
• Matthew Weiner talks to the Pasadena (Calif.) Star-News about the Los Angeles-area locations that are "pretending to be mid-century New York City."
• Gothamist takes a look at the cultural references in the Season 6 finale.
• For recaps and reviews of the Season 6 finale, "In Care Of," check out A.V. Club, Basket of Kisses, CBS News, Entertainment Weekly, E! Online, HitFix, The Hollywood Reporter, The Huffington Post, the Los Angeles Times, Rolling Stone, Slate, Time, U.S. News and World Report, The Wall Street Journal, TheWrap and Zap2it.
• To stay up-to-date with all the latest Mad Men news, sign up for the weekly Mad Men Memo.
Read More