Uncategorized
1960s Handbook – 1968 Democratic Convention and Riots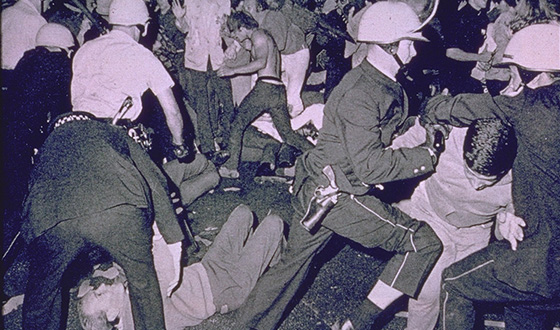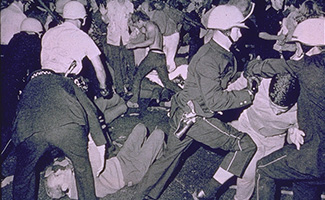 The 1968 Democratic National Convention, which took place in Chicago, was one of the most contentious events in American political history. The months leading up to the convention had seen an incumbent president decline to run for reelection, two major assassinations, rioting in more than 100 cities, and increasing dissent about U.S. involvement in the Vietnam War. When antiwar activists announced plans to protest at the convention, Chicago's "law and order" mayor, Richard J. Daley, warned them not to come — and met the ones who did with a display of force that shocked the millions of Americans watching the spectacle on television. As many historians have since reflected, what took place outside the convention hall played as significant a role in determining outcome of the 1968 Presidential election as the political maneuverings inside it.
Throughout the convention, about 12,000 Chicago police officers, reinforced by several thousand Illinois National Guardsmen, an equal number of U.S. Army soldiers, and 1,000 Secret Service agents, kept the protesters (who at most numbered 10,000) away from the hall, which was surrounded by a barbed wire fence. The government commission that later investigated the daily clashes assigned blame to both sides, though it pointedly described the skirmishes of Aug. 25 and 26 as a "police riot." Things were no calmer on Aug. 28, the day convention delegates voted down a plank for the Democratic Party platform opposing the conduct of the Vietnam War. The protesters headed for the hall but ended up in front of the Conrad Hilton Hotel, the headquarters of both the delegates and the media. Television cameras captured the confrontation between the protesters and police, and about 18 minutes of footage was broadcast unedited. Many shots showed officers clubbing seemingly defenseless protesters, news gatherers, and onlookers.
Incivility reigned inside the convention hall as well. Security officers manhandled CBS newsman Dan Rather; dueling delegations came to blows over the right to represent several states; and many of the participants became aggravated over security precautions that included having their movements severely restricted.
The Democrats eventually nominated Vice-President Hubert Humphrey for President, but the unruly convention left many Americans doubtful about the ability of either the party or Humphrey to lead the country. In the November Presidential election, Republican Richard Nixon defeated Humphrey 43.4% to 42.7% with the third-party candidate, Gov. George Wallace of Alabama, earning 13.5% of the national vote.
Read More