Uncategorized
The Mad Men Fashion File – Got a Revolution
"It's a revolt!" cries Pete Campbell, and it's amazing. Outside, the Chicago riots are raging near the Democratic convention. Inside, the servants of the old regime — secretaries, to be exact — are taking over big business. And California has turned from Don's one true home into a hipper, richer, and even more brutal playground than Manhattan. "Be slick, be glib, be you," Roger instructs Don on the plane. If only he knew…
To show the New Order slowly emerging, costume designer Janie Bryant relies on contrast. She's taken the Old Guard — the white male executives — and kept them in an archetypal uniform, the suit and tie. Then she surrounds these "stiffs" with challenging patterns and shapes. Danny — sorry, Daniel — Siegel at the pool party is a great example: He's wearing red, white and blue, the same colors in Roger's crisp ensemble, but Danny flaunts them on a loose caftan with love beads and a moustache. Roger's main accessory is a red cravat, while Danny's is a willowy hippie named Lotus! Dressed in our national colors, each man seems to be his own American dream, and each other's American nightmare.
We should note that for the first time ever, "California Don" isn't a man wearing cardigans and easy smiles. He's a shark out of water, fumbling through meetings, tripping across parties, and watching the small people in his life, people like Megan and Sally and Peggy (people he thought he could control) grow taller and more powerful than he is. Alice in Wonderland doesn't need Danny to make it into a movie — it's already happening here.
There was a big payoff this week, as viewers finally got their "Jumping Off Point": Don face down in a pool as if he'd stepped into his own botched Hawaii pitch. I loved the shot right after, when Roger's clothes are soaked through too, and you realize he jumped into the pool to save Don. It's especially satisfying combined with Joan's fantastically mean snap at Peggy: "You were so brave. Letting Don carry you to the deep end of the pool." Maybe, but Don's the one who needs to be hauled out of it.
It's really not a surprise that Peggy and Joan are fighting, since their costumes are, too. Joan begins this episode in cheery pastel florals, while Peggy's in a marigold shift and red and yellow scarf that's a perfect complement to Ted's usual golden brown suit. (Meanwhile, Joan's dress matches that of Ted's secretary, Moira.) Is it any wonder that when Pete stomps down the stairs in his red and yellow tie, he and Ted are aligned against Joan, and Peggy dutifully follows?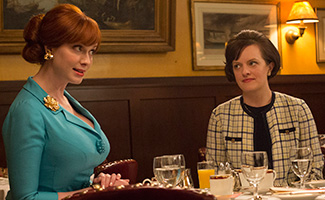 The clash continues at the insubordinate breakfast, where Joan arrives in a bright aqua suit while Peggy is all business in neat and tidy checks. You can tell Joan is nervous and trying really hard to hold it together because that's exactly what her outfit is doing: The blue jacket is practically restraining her from jumping out of her skin, and the rosette buttons match the rosette brooch, which matches the rosette earrings… The entire costume screams "I'm on top of this; really, I am!"
There's another Alice in Wonderland moment at Carnation, when Roger and Don drink glasses of milk and sit underneath giant photos of ice cream cones while wearing oh-so-serious business suits. It's adorable but uncomfortable — sort of like Ginsberg's pre-Manischewitz tirade, which was as loud and disconcerting as his crazy clashing patterns. I feel as dizzy as he was whenever I see his checks-and-stripes-and-leaves-and-animals print shirts.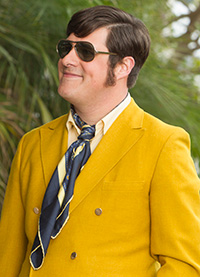 As we wrap up, a nod to the color theorists: At the end of the episode, just as Joan fully admits to breaking "The Rules," she's wearing blue and green. Since the B&G Color Combo has represented misbehavior and insubordination this entire season, that makes sense. Meanwhile, at the very end of the episode, a woman in a yellow miniskirt floats by Pete as he's smoking a joint. At the beginning of this season, yellow represented the neglected and unwanted, essentially the margarine of the world. But last week, Betty flaunted her hot body in a yellow dress, and this week, it's the color of the mini skirt and the California party hostess' mini-dress and accessories. Harry Crane wears yellow, too. So could it be that yellow is having its own sort of uprising? Is yellow the color of revolution? Discuss.
Oh, and one more thing: Is it just me, or does the the flat silver handkerchief popping out of Jim Cutler's suit pocket look an awful lot like a guillotine blade?
Read More